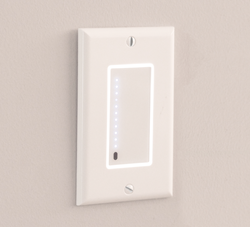 "We're focused on providing a smart home solution that meets the needs of consumers regardless of where they are in their smart home journey..."
LAS VEGAS (PRWEB) January 08, 2018
Fantem, the developer of the award-winning smart home solution Oomi, today announce a suite of new products and feature enhancements to the Oomi smart home product line that the company will showcase at the Consumer Electronics Show in Las Vegas, Nevada, January 9 - 12 this year.
First, Fantem will unveil a mobile app based smart home solution centered on the feature rich Oomi Cube, a Z-Wave hub that is also a multi-functional super accessory and security camera. The solution will provide users an opportunity to create a smart home system built around the Oomi suite of products and other third-party smart home devices without the need for Oomi Touch, the elegantly designed in-home touch screen controller that also pairs any Oomi device with a simple tap. Previously, setup and control of an Oomi system required Oomi Touch which will be made available as an optional addition to a user's system.
"We're focused on providing a smart home solution that meets the needs of consumers regardless of where they are in their smart home journey," said Colin Marshall, president of Fantem, Inc. "While the Oomi Touch controller offers unique functionality and versatility for a more robust system, the mobile app-based system provides an alternative to those customers who are just dipping their toes into the water of smart home tech."
The redesigned apps for iPhone and Android include a host of new features for Oomi customers to enjoy, including:

Configuration and set-up of smart devices from Oomi and other third party providers
The ability to create scenes and automations
Detailed notifications from Cube's multiple environmental sensors and other connected devices
Monitor and record video feed from the security camera
Enhanced personal security and monitoring features
Also at CES, Fantem will display its new series of control products for in-wall switches, dimmers and motor controllers. The Oomi TouchSwitch reimagines the traditional light switch by providing a highly versatile interface which enables users to have far greater control over their smart home. When connected to In-Wall Series controller users can either tap TouchSwitch to toggle a light, control curtains, dim the lights, or power down a room with a wave of a hand. Scene control is also accomplished with a swipe of the finger across the capacitive interface.
Finally, Oomi will demonstrate its newly announced collaboration with SafeTrek, a leading personal safety focused technology company. SafeTrek's integration with the Oomi system will enable users to enhance their personal safety and respond to potential threats from within Oomi's platform by connecting with an outside monitoring service or directly to emergency services.
"We've made no secret of our intentions to focus on the simplicity of our design and set ourselves apart with innovation and substantive partnerships," added Marshall." There is a lot of excitement in store for the Oomi community in 2018."
The app only solution will provide a lower cost of entry for consumers. For example, a new Oomi Security Kit, available in Q1 2018, will feature the app-based interface and include the Oomi Cube, two Oomi Door and Window Sensors, and an Oomi Multi-Sensor, and will retail for under $300.
All of Oomi's products will be on display in the Oomi booth 40747 in the Sands Smart Home Exposition.
About Fantem
Fantem is focused on enhancing people's lives through the development of innovative lifestyle products and solutions. In 2014, Fantem began a mission to remove the complexity and frustration associated with smart home systems and technologies. Through thoughtful consideration of consumer goals, Fantem re-imagined the experience from the ground up. The result is Oomi, the easiest and most approachable smart home system available anywhere - "a system designed for the rest of us!" Now anyone can have a smart home, regardless of their comfort level with technology. Fantem has offices in Chicago and Shenzhen and strategic partners in four continents. For more information about Oomi please visit http://www.oomi.com.