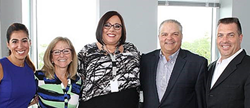 The dedication of the American Red Cross to improving the health and safety of our communities is inspiring, and Tripp Lite is proud to support their mission.
Chicago, IL (PRWEB) January 10, 2018
Tripp Lite, a world-leading manufacturer of power protection and connectivity solutions, has been presented with the Wesbury Leadership Award from the American Red Cross for supplying Crisis Hotline Centers all over the country with mission-critical UPS systems.
This award was established by the Chicago Red Cross in honor of past Board chairman Stuart A. Wesbury. Since 1991, it has been presented annually to organizations who have worked actively with local Red Cross chapters to deliver healthcare and safety services to communities.
"We are honored to be presented with the Wesbury Leadership Award," said Priscilla Galgan, Tripp Lite Vice President of Marketing. "The dedication of the American Red Cross to improving the health and safety of our communities is inspiring, and Tripp Lite is proud to support their mission."