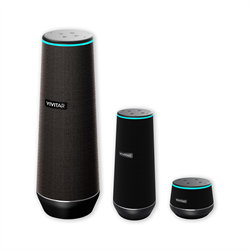 LAS VEGAS (PRWEB) January 08, 2018
(CES Booth #16037) -- Vivitar, a legacy family brand of fun and affordable tech products, unveils at 2018 CES® this week the new Alexa Speaker Line - a collection of omni-directional, hands-free speakers that can control all smart home products, including Vivitar specific offerings, as well as play music, weather forecasts, news briefs, and more through simple voice commands. The full line features four speakers including two tower speakers, a Dot speaker, and a Bluetooth box speaker. These Alexa speakers and other new offerings from Vivitar will be previewed at the Las Vegas Convention Center, January 9 - 12, 2018, at the Central Hall, Booth #16037.
With Alexa becoming a staple in households across the nation, Vivitar created this new line of high-tech speakers with affordability in mind. The Alexa 7" Tower speaker offers 1 x 5W omni-directional sound and can be used as Alexa, Siri for the iPhone, and even as the Google assistant. The sleek, curved tower fits easily into any decor, and comes with six hours of battery life to last long enough to handle any amount of requests. Alexa can play your favorite tunes on command while enjoying beautiful, clear 360-degree sound. The speaker can be programmed to control the full range of smart home products, including security cameras, light bulbs, plugs, and more.
Other speakers in the line include the 12" Alexa Tower speaker, the Alexa Dot Speaker and the Alexa Bluetooth Speaker. For more information, check out Vivitar at the Las Vegas Convention Center, Central Hall, Booth #16037, or visit http://www.vivitar.com.
About Vivitar
Vivitar designs and manufactures affordable consumer electronics ranging from on-trend digital lifestyle products for millennial consumers to cameras and accessories for amateur and professional photographers. With a rich heritage dating back to 1938, the company's portfolio today spans mobile and audio accessories, cameras, and a constantly evolving array of specialty products in emerging electronics categories. It also is the largest supplier of digital still cameras, camcorders and accessories around the world, harkening back to its origins as an importer of photographic equipment and its subsequent development of industry-leading mass-market cameras, lenses and flashes. A division of Sakar International since 2008, Vivitar is headquartered in Edison, NJ, with offices in the United Kingdom, Latin America, Canada, Australia and Hong Kong, and global retail distribution through more than 100,000 mass market and specialty locations. For more information, visit http://www.vivitar.com or follow the company on social media at Facebook, Twitter, YouTube and Instagram.