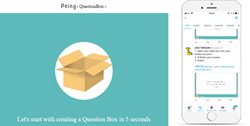 TOKYO (PRWEB) January 08, 2018
Largest anonymous messaging service in Japan, with 200 million monthly page views now goes global
Jiraffe, Inc. (Tokyo; Founder and CEO: Teruaki Aso) announces that "Peing - QuestionBox -", anonymous Q&A box service on Twitter is now available in over 40 countries such as the United States, United Kingdom. and Hong Kong.
◆Details of the "Peing - QuestionBox -"
Peing [peíŋ] is an "anonymous Q&A box" service on Twitter. The service was released on November 2017 and rapidly growing to an huge service of 200 million page views per month.
Register here↓
https://peing.net/
<How does it work?>
Once you set a Q&A box, you will receive anonymous questions
You can choose which questions you want to answer, and your answer will be posted as your tweet
<When to ANSWER>
Go to https://peing.net and log in with your Twitter account
Share your peing page on your Twitter
Answer questions you got
Try and experience a new style of communication!
<When you ASK>
Find a person who has set a Q&A box
Type your Question
Wait for him/her to answer
You do not need an account to ASK questions
◆From Teruaki Aso, Jiraffe's Founder/CEO
"Peing - QuestionBox -, released in Japan in November 2017, was originally developed by an individual, and we acquired it in December 2017. The service was rapidly penetrating in Japan, we recognize that our mission is to expand this service not only in Japan but globally. We hope to reach as many users as possible by continuing to expand throughout the rest of the world starting with English-speaking countries."
◆Expansion Area
United States, Guam, Canada, Brazil, Mexico, Argentina, Peru, United Kingdom, Germany, France, Italy, Spain, Portugal, Austria, Belgium, Netherlands, Poland, Switzerland, Sweden, Finland, Ukraine, Russia, China, Macau, Hong Kong, Taiwan, South Korea, Singapore, Indonesia, Philippines, Cambodia, Malaysia, Vietnam, Thailand, India, Australia, New Zealand, United Arab Emirates, Saudi Arabia
(no particular order)
◆Details of Jiraffe, Inc.
Founder and CEO Teruaki Aso
Established October, 2014
Location 3F NID Building, Honcho, Nakano-ku, Tokyo, Japan
Services "Hikakaku!" URL:https://hikakaku.com/
"Saiyasu-syuuri.com"  URL:http://saiyasu-syuuri.com/
"Smama" URL:https://smama.jp/
"Peing - QuestionBox -" URL:https://peing.net/
■Contact regarding this matter
Jiraffe, Inc. CFO / PR Motoki Nakai
Tel: (+81) 90-9119-4634 mail: pr@jiraffe.co.jp