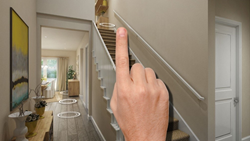 ORLANDO, Fla. (PRWEB) January 09, 2018
Focus 360 today announced Multipoint VR™, the latest 3D virtual reality breakthrough in model home visualization. Based on years of experience in perfecting single point VR, Multipoint VR employs up to nine cameras in a room. The multiple cameras enable the viewer to traverse about the interior space of a model home as if walking naturally from room to room thereby further engaging potential home buyers.
Developer of the first virtual model home, Focus 360 is a pioneer in architectural visualization, comprised of an accomplished collective of artists, architects, animators and programmers with expertise dating back to the origins of architectural computer graphics and interactive presentations. Established more than 27 years ago, Focus 360 has delivered thousands of distinctive and influential applications to satisfied architects, builders and developers worldwide.
See more examples at https://www.focus360.com/announcing-multipoint-vr
Multipoint VR is a trademark of Focus 360.