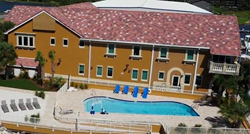 "We shall hold ourselves accountable and are committed to a quality assurance program designed for continuous improvement." Barnett Gilmer CEO
GULF BREEZE, Fla. (PRWEB) January 16, 2018
Gulf Breeze Recovery has earned The Joint Commission's Gold Seal of Approval® for Behavioral Health Care Accreditation. This accreditation signifies that Gulf Breeze Recovery meets rigorous performance standards in delivering quality safe care.
So how prevalent is accreditation of substance abuse treatment facilities? The 2016 National Survey of Substance Abuse Treatment Services notes that of the 14,632 addiction treatment programs that voluntarily supplied information on their programs:

28 % accredited by CARF
19 % accredited by the Joint Commission
Gulf Breeze Recovery is now in the 19% with The Joint Commission's Gold Seal of Approval®. The 7th point of difference in Gulf Breeze Recovery's 15-Part Pledge states that "We shall hold ourselves accountable and are committed to a quality assurance program designed for continuous improvement." This facility has continued to demonstrate their commitment to this pledge statement through independent third party audits.
In 2015, Gulf Breeze Recovery scored over 95% on its audit for the state's licensing entity, Florida Department of Children and Families (DCF).
In 2016, they improved that score to over 97%,
In 2017, they improved again to a 99.7%.
In keeping with their mission for constant improvement, it only made sense to the non-12 step residential treatment center to also seek national accreditation through the Joint Commission, which sets the standards for the most demanding requirements. Accreditation demonstrates a commitment to excellence and continuous compliance with performance standards. The Gold Seal of Approval® is a symbol of quality that reflects a facility's commitment to providing safe and effective care. For an organization that has continually endeavored to achieve high standards in the field of substance abuse treatment, earning this Gold Seal was the next logical step in constant improvement and accountability. Gulf Breeze Recovery is able to offer their guests and families yet another assurance of their commitment to quality care and continual improvement.
About Gulf Breeze Recovery: Gulf Breeze Recovery is changing the future of addiction treatment with the THRIVE® program focused on overcoming chronic relapse. Gulf Breeze Recovery's THRIVE® program is designed for those who are looking for a drug and alcohol treatment program to produce a different and positive result. This non-12 step program allows you to drive beyond your addictions and promotes a new outlook on life. Gulf Breeze Recovery is now accepting select insurance policies as a full or partial payment for all program costs. The exciting news is that people can now attend one of the most highly regarded drug treatment centers in the country at little to no cost to them. For more information about our program or to speak with an Admissions Counselor, please call 855-973-3551.