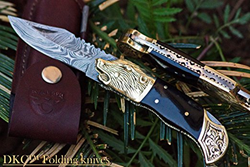 Men Love Knives...A Gift That Will Always Be Remembered
CASTRO VALLEY, Calif. (PRWEB) March 30, 2018
Gift giving is always a challenge. "We all want get a gift that someone will want, like, and remember who gave it to them," said Gordon. Well nice knives do the trick for most men. You will never see a person through out a knife that is given as a gift. In fact if its not used every day, its almost guaranteed to get first level placement on desk, shelf, night table, or display. And knives are almost always passed along to family or friends at some point. "How Many Gifts Can Do This " asks Gordon. DKC Knives are popular with thousands of buyers because of this.
DKC Knives ™ a USA based custom handmade knife manufacturer has a dramatic line up of handmade custom Damascus steel knives. "We are proud to have over 200 models that are available to the public," stated Paul Gordon, President of DKC Knives. "It has taken us several years to put together an extensive collection to bring to market."
While there are many knife companies, very few specialize in Damascus steel knives. The manufacturing of Damascus steel is a specialized process that involves several types of steel folded or welded together. The end result of the process is dramatic blade patterns that knife collectors love. While today's Damascus steel process is different than the original wootz steel that dates back many centuries, the current practice of "pattern welding" is well accepted as the modern day approach. While the actual facts about original Damascus steel are fraught with speculation, one thing remains constant. There is a great mystique surrounding the original steel and its use in sword making.
DKC Knives is based in Castro Valley California. See the full line up of handmade custome Damascus Steel knives at http://www.dkcknives.com. DKC Knives can be followed on Facebook as well as Instagram.