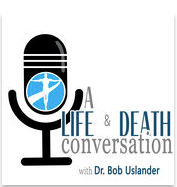 with the intimate nature of this podcast, many more people will have access to these raw and honest conversations that have us not only ask the question about how we experience death, but most importantly, help us look at how we are experiencing life
SAN DIEGO (PRWEB) January 08, 2018
Integrated MD Care (IMDC), a concierge geriatric and palliative care medical practice providing traditional and holistic in-home services based in San Diego, Calif., launched "A Life and Death Conversation," a compelling podcast series led by IMDC Medical Director and founder, Dr. Bob Uslander. Through A Life and Death Conversation, Dr. Bob (as his patients refer to him) wants to help listeners become more comfortable and "friendlier" with the concept of death.
This show provides public access to some of the rich conversations Dr. Bob and his team are privileged to as a result of their unique medical practice, assisting patients in creating and experiencing their "best death," and the best life leading up to it. The podcast features guests who are preparing for their death, family members who have supported loved ones through illness and death, authors and experts on grief and loss, and professionals who are working in palliative care and end-of-life care.
Some guests on the podcast have shared their experiences with Dr. Bob exclusively, including Bill Andrews, a San Diego surf legend, who earlier this year decided to pursue physician-assisted death with Dr. Bob as his physician. Also featured in the podcast are author and life coach, Diane Forster, discussing how her suicidal ideation ultimately led her to insights on how to live the rest of her life with purpose and passion, and Dr. Ken Druck, a well-known author and resilience expert discussing the loss of his daughter and how death and suffering make us face and address our biggest fears.
"Every day I talk with people about life and death, and while sometimes difficult, these conversations are often teaming with insight and inspiration. I feel compelled to pull others into the conversation as well," said the creator and host of the podcast, Dr. Bob Uslander. "Our goal at Integrated MD Care is to change how people view, talk about, plan for, and experience the last phase of their life, including their death. Now, with the intimate nature of this podcast, many more people will have access to these raw and honest conversations that have us not only ask the question about how we experience death, but most importantly, help us look at how we are experiencing life."
The podcast is free and a new episode is launched each week on Friday mornings. "A Life and Death Conversation" can be found in iTunes, click here to subscribe and download. The podcast can also be accessed directly from the IMDC website, http://integratedmdcare.com/category/podcast/
Integrated MD Care announced earlier this fall the growth and expansion of their team, broadening the physical and emotional support they are able to provide. As the only comprehensive, in-home geriatric and palliative care program of its kind in the nation, serving the homebound elderly and those facing serious and terminal illnesses, IMDC provides professional services not traditionally paired with end-of-life care, including: physical therapy and exercise, massage therapy, music therapy, yoga and meditation, acupuncture, and a gourmet chef. IMDC is now able to expand the conversations of death and dying into the creative and popular medium of podcasts.
Those interested in being a guest on the podcast and adding to the conversation please call 858.925.7554 or email info(at)IntegratedMDCare(dot)com.
About Integrated MD Care
Integrated MD Care is a team of doctors, nurses and integrative therapists providing concierge in-home palliative care. They are committed to enhancing quality of life and reducing the burden for patients and families who are immersed in the challenges of aging, illness, and the end of life. Started in 2015, this dedicated team provides a new model of care that replaces the confusion, frustration and overwhelm of complex medical illnesses with clarity, peace, joy and celebration, allowing patients to experience the rich sensations of life in the comfort of their homes as they face their challenging and heroic journeys. Integrated MD Care services are paid for privately, and are not covered by insurance. Integrated MD Care serves patients in all of San Diego County and with limited services in Orange County and Coachella Valley. For more information, or for a free consultation, please go to http://www.integratedmdcare.com.