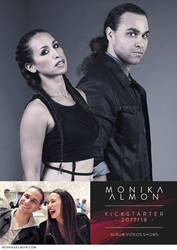 "Monika and Almon… are creating music that pushes the boundaries of the genres." -Ariel Chobaz, Grammy® Nominated Mix/Sound Engineer
PHOENIX, Ariz. (PRWEB) January 08, 2018
In an inspiring turnaround, a relatively unknown married pop duo MONIKA ALMON have gone from foreclosing on their home to earning the support and backing of music industry heavy hitters.
"You'll be hard-pressed to find a more passionate duo than Monika Almon."
Karlie Hustle, Beats1 Radio + Apple Music
"Monika and Almon… are creating music that pushes the boundaries of the genres."
Ariel Chobaz, Grammy® Nominated Mix/Sound Engineer
"talented partners, spouses and lifelong friends… whose passion for music goes beyond the recording studio.. Watch this power music couple take over!!!!"
Rachel Cole, NBC 12 News
In a Cinderella story of sorts this musical duo has found a way to not only garner the attention and support from names like Ariel Chobaz, a Grammy® nominated Mix and Sound Engineer, and Karlie Hustle, the Music Manager for Beats1 Radio + Apple Music, but they've been able to thrive as a couple for over 15 years.
In 2009 they released their first album and soon after found themselves struggling financially. Almon was laid off from work and, like so many people at this time, they were upside-down on a home they could no longer afford. Through tears and hard choices, they decided the only option was to let go of their home and soon after their car. Opting to ride bikes for over a year and a half as a way to save so they could continue working on music, Almon suffered an injury. Adding to an already stressful situation, his injury left him unable to work and without health insurance.
-
These hard times have brought them closer together and have helped to form an even deeper love for each other and their music. With a lot of hard work, persistence, and support from friends and family, they are back on their feet and working on their best music ever.
-
Teasing a 90 sec clip of their first completed song with Ariel Chobaz Hearts Bleeding on their Kickstarter page, they are well on their way. Since launching their Kickstarter campaign, they have been featured on NBC News 12 and have raised over $11,000 in less than 15 days.
-
Excited to share their new music and the story of how they got here, MONIKA ALMON invite you to join "THETEAM" and become a part of the journey! The Kickstarter is live and runs until Wednesday, January 17 2018 8:00 PM MST.

MONIKA ALMON are available for interviews.
To schedule, contact 602-689-9915 or prinfo(at)monikaalmon(dot)com