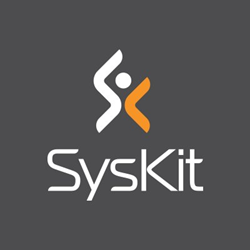 "The investment from Redgate is more than financial, because they bring with them their knowledge and skills in creating and selling software to the same kind of customers we want to talk to." Toni Frankola, SysKit Co-Founder and CEO
ZAGREB, Croatia (PRWEB) January 09, 2018
Redgate Software has acquired SQL Manager from SysKit to add to its portfolio of tools, while its sister company, Redgate Investments, has made a substantial investment in the company, with an option for a further investment round in two years.
This is a significant boost for SysKit, and enables the Zagreb company to accelerate its growth plans – and be more confident in the success of those plans. Redgate Investments makes sizeable minority investments in founder-led businesses, which come without the onerous terms and conditions often requested by private equity and venture capitalists. Instead of seeking an early financial return, its goal is to help companies succeed by helping them apply best practice and become strategically stronger.
This, for Toni Frankola, SysKit Co-Founder and CEO, is the biggest advantage of the new relationship with Redgate. "We've come a long way in eight years and we already employ more than 40 people and have over 3,000 public sector and corporate customers across the globe. The investment from Redgate is more than financial, because they bring with them their knowledge and skills in creating and selling software to the same kind of customers we want to talk to. That, for us, is the real value they bring to the table."
The new direction for the company follows its rebranding in September, when it changed its name from Acceleratio to better reflect the system administration toolkit solutions it develops and specializes in.
"In a way," adds Toni Frankola, "the investment from Redgate is the next step in the journey we were already on. It will help us to focus on what we're best at – and reach our goals sooner."
Simon Galbraith, CEO of Redgate Software and Redgate Investments, agrees. "SysKit is a great example of the software innovation and talent now emerging in Eastern Europe. It's built a strong reputation, in particular for the solutions it develops for the SharePoint environment. The investment means we can help them concentrate on that market and grow faster by sharing our own experience in developing a strong, sustainable business."
A development team is now working on SQL Manager to upgrade and enhance its data classification functionality, and Redgate will relaunch the newly renamed SQL Estate Manager in 2018 alongside its award-winning portfolio of SQL Server tools.