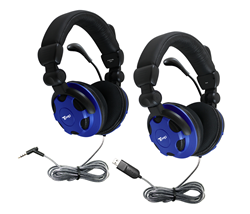 T-PRO headsets meet all specification requirements, are built for the daily wear-and-tear within the school environment and are the most cost-effective headsets for schools."
FAIRFIELD, N.J. (PRWEB) January 09, 2018
With a multitude of specific requirements outlined for the headset to be used during testing, the newly-created T-PRO is the only headset that delivers on all of them, and includes the following features:

Superior speaker drivers for clear sound quality.
Ambient noise-cancelling, adjustable, steel-reinforced gooseneck microphone with wider frequency response range to capture all student responses, even lower and higher frequencies.
Ambidextrous gooseneck mic with a 210 degree swivel range to accommodate both right and left-handed students.
On-ear cup volume control knob to eliminate accidental volume changes during testing.
Noise-reducing deluxe ear cup design to minimize noise for better concentration and focus.
Soft, comfortable leatherette cushions for easy cleaning.
Foldable for easy storage.
Industrial-grade design is durable and tough for everyday school use, yet lightweight.
Exclusive chew and kink-resistant Dura-Cord™
The T-PRO is available in USB plug or TRRS slim barrel, 120 degree single plug for easier audio-jack insertion into devices with protective covers.
"Compared to the consumer headset options that might meet some of these requirements but certainly not all, the T-PRO series meets all specification requirements and is custom-made for the daily wear-and-tear within the school environment and is the most cost-effective optionsfor schools." said Shelly Goldstein, President of HamiltonBuhl.
Shipping just in time for TELPAS assessments commencing on February 26th, HamiltonBuhl is already taking pre-orders on the T-PRO series, the best headset to deploy during testing.