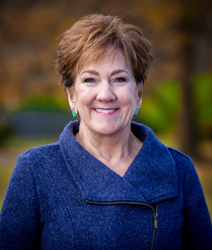 "I am thrilled to be back in my hometown doing something I absolutely love. I'm excited to have this new opportunity to make a positive impact on the businesses and the people in my community." - Marty Sauer Coker
LOUISVILLE, Ky. (PRWEB) January 08, 2018
Marty Sauer Coker is pleased to announce the launch of her new business and sales coaching company, The Growth Coach of Louisville.
The Growth Coach is the largest provider of affordable group coaching workshops in the nation, but coaches also offer group and one-on-one coaching for sales professionals, managers, management teams, self-employed professionals and more through a wide variety of programs. The Growth Coach's mission is to help business leaders build a more successful business and better balanced lives. The Growth Coach of Louisville serves the entire Greater Louisville area.
A lifelong Louisvillian, Coker has deep roots in the Louisville area. She built a successful 40-year career focused on strategic, continuous improvement. Her journey began with the Louisville Tennis Club, where she was instrumental in growing revenue by developing systems to increase play. She then worked as the membership director for The Jefferson Club, leveraging mutually productive business relationships, and then as the director of business development for the World's 9th largest employer, Compass Group. Coker has worked in many industries and sectors; corporate, manufacturing, government, corrections, sports, education, hospitality and, most recently, served as the director of business development for Unidine, where she concentrated on non-profit senior living communities.
Although she has acquired many business skills and accumulated numerous achievement awards and recognition Coker's purpose and extracurricular involvement has always been focused on family. Whether sports, school board, alumni association or various charitable activities she stayed true to the family litmus test.
"I was drawn to The Growth Coach because I've always wanted to own my own business and I was finally at a place in my life where I could combine my entrepreneurial spirit with my passion for development, which is how I found The Growth Coach," Coker said. "I am thrilled to be back in my hometown doing something I absolutely love. I'm excited to have this new opportunity to make a positive impact on the businesses and the people in my community."
As a Growth Coach, Coker is certified in The Strategic Mindset coaching process, which adheres to the standards, practices and policies that the International Coaching Federation has set forth in their Code of Professional Standards and Ethics. The company's landmark Strategic Mindset Process is so effective that it comes with a money-back guarantee.
"As a Growth Coach, I am excited to work with Professionals who want to grow their business and better balance their business and their lives. I want to make your business succeed as much as you do. Together we will uncover your needs, coach to help you find the right path and provide actionable plans to navigate throughout your ongoing journey. The results are a superior professional and personal ROI," Coker said.
The Growth Coach, founded in Cincinnati, Ohio, sold its first franchise in 2003, but its leaders have a successful 20-year track record of helping business leaders find success and balance. Today the business and sales coaching franchise is in more than 100 markets worldwide. The Growth Coach was included in Bond's "Top 100 Franchises" and recognized in Entrepreneur Magazine's "Franchise 500" and "Best of the Best," in USA Today and has been featured on FOX, CBS and NBC.
For more information about how The Growth Coach of Louisville can help you and your business, call (502)550-2604, email MCoker(at)TheGrowthCoach.com or visit http://TheGrowthCoachLouisville.com.
ABOUT THE GROWTH COACH
The Growth Coach was founded in Cincinnati in 2003 and is the only pure business and sales coaching franchise aimed at driving success while balancing the lives of business owners, managers, sales people, self-employed professionals and executives across a wide spectrum of businesses and industries. The Growth Coach specializes in group workshops and individual coaching with the goal of helping clients gain greater focus and leverage to work less, earn more and enjoy more fulfilling lives. The Growth Coach is active in more than 100 markets in the United States and abroad and is always looking to expand domestically and internationally. For more information visit http://www.TheGrowthCoach.com.