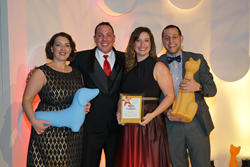 "We're always looking for ways to support and celebrate the veterinary community, and we think this year's awards will be our best yet," said Petplan pet insurance co-CEO Natasha Ashton.
NEWTOWN SQUARE, Pa. (PRWEB) January 08, 2018
Petplan pet insurance today announced the finalists for the 2018 Veterinary Excellence Awards. The sixteen finalists will be recognized for their outstanding work on February 2 at the Four Seasons Resort Orlando.
Petplan has also added a little more glitter to their annual awards gala. The 2018 event will spotlight some of the most exciting veterinary professionals to date. Petplan is doubling the donation to each winner's non-profit of choice. And the pet insurance provider is launching a continuing education speaker series before the opening of the Veterinary Meeting & Expo (VMX).
"At Petplan, we believe in going big—so this year we supersized our awards gala," says Natasha Ashton, co-founder and co-CEO of Petplan. "It has been more work with a record number of nominations pouring in and a brand new conference to coordinate, but our excitement about it all has grown, too! We're always looking for ways to support and celebrate the veterinary community, and we think this year's awards will be our best yet."
The Finalists
Pet health heroes aren't hard to come by, but deciding who is truly top dog is a little more difficult! After a rigorous review of the semi-finalist candidates, the 2018 Veterinary Excellence Awards judging panel chose the following finalists, who will attend the Awards dinner as guests of Petplan. In end, one finalist from each category will go home with all the bones.
Practice of the Year

Colorado State University Veterinary Teaching Hospital, Fort Collins, CO
4 Paws Animal Hospital, San Diego, CA
Lake City Animal Hospital, Lake City, FL
Veterinarian of the Year

Dr. Wendy Ardolina, North Shore Animal League America, Port Washington, NY
Dr. Natalie Beck, Beaches Animal Hospital, Toronto, CA
Dr. Thomas Newland, Adobe Animal Hospital, Scottsdale, AZ
Veterinary Technician of the Year

Jennifer Lettich-Snyder, Anthracite Animal Clinic, Ashland, PA
Jamie Rauscher, Animal Hospital of Towne Lake, Woodstock, GA
Lorraine Aron, Fido's Surgeon, Escondido, CA
Practice Manager of the Year

Meg Artman, County Line Veterinary Hospital, Marlton, NJ
Amanda Inman, Pet Care Clinic of Kokomo Inc., Kokomo, IN
Nicole Derfert, Elma Animal Hospital, West Seneca, NY
Receptionist of the Year

Rebecca May, Town N' Country Animal Hospital, Burlington, NC
Robyn Tschirhart, Laurelwood Veterinary Hospital, Waterloo, ON
Kaleb Tocco, Pet Care Clinic of Kokomo Inc., Kokomo, IN
The Donations
Each year, Petplan gives each Veterinary Excellence Awards winner a $1,000 prize, plus a $1,000 donation to their animal charity of choice. This year, Petplan is doubling the donations, for a total of $12,000 to be distributed to worthy non-profits.
"Giving back is one of our core principles, so we're really pleased to be able to contribute more to help animals in need this year," says Ashton. "Our winners always pick amazing organizations to support—we can't wait to see who makes this year's list!"
The Business of Medicine Conference
As part of Petplan's ongoing continuing education for veterinary professionals, the pet insurance provider is launching the Business of Veterinary Medicine conference at VMX in partnership with the NAVC. The speaker series will take place on February 2 at 10:00 a.m. at the Hyatt Regency Orlando. Participants will earn two CE credits for each lecture they attend, and a total of four speakers will present. Conference attendees can register for the event by emailing BOVM@gopetplan.com.
"Offering veterinary professionals the opportunity to maximize their experience at the VMX has been a goal of ours for years," says Ashton. "With the conference in the morning and the dinner and gala that night, this will be one spectacular day for everyone!"
For more info about the 2018 Veterinary Excellence Awards, point your paws to Petplan.com/vet-awards.
###
ABOUT PETPLAN
Petplan has built an industry-leading pet insurance policy for pet parents who demand a higher pedigree of care for their best friends. We've leveraged 40 years of global experience to create completely customizable coverage pet parents can feel confident in, and world-class claims service that operates 24 hours a day, every day.
Petplan's innovative approach to pet insurance has been recognized by Forbes, Financial Times, Bloomberg, Inc. magazine, Smart CEO, the Communicator Awards, Ernst & Young and many others.
Petplan policies are underwritten in the U.S. by XL Specialty Insurance Company and in Canada by XL Specialty Insurance Company-Canadian Branch. The company is rated A+ by S&P (2017). Coverage may not be available in all jurisdictions. For more information about Petplan pet insurance, visit http://www.petplan.com or call 1-866-467-3875.