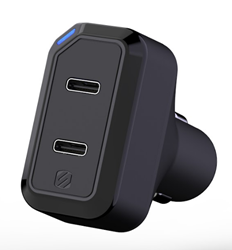 LAS VEGAS (PRWEB) January 12, 2018
SCOSCHE Industries (pronounced skōsh), innovators of award-winning consumer technology, powersports and car audio products and accessories, is announcing a new line of home and vehicle charging/power delivery products using USB-C™ Power Delivery technology.
Providing the fastest charge possible for both smartphones and tablets, this new family of products delivers 18W of power via each USB-C Power Delivery port(s) and 12W via USB-A ports, where present. Port configurations varies by model. Dual port models allow you to charge two devices at once. Coiled cable models come equipped with a 3-foot extendable Type-C cable. These new Home and Vehicle Charger/Power Delivery products will be available Spring 2018 at SCOSCHE.com and major consumer tech products retailers nationwide. Pricing has not yet been released.
Follow @SCOSCHE on Twitter, Facebook, GOOGLE+, Instagram, Pinterest and LinkedIn for the latest news on all of the company's award-winning consumer tech and car audio products and accessories. And check out their Blog for informative articles on emerging technologies, as well as its products.
About SCOSCHE (pronounced skōsh):
Founded in 1980, SCOSCHE Industries is an award-winning innovator of consumer technology, powersports and car audio products - committed to delivering superior quality, exceptional value and unmatched customer service. The designers and engineers at SCOSCHE develop products that reflect a rich heritage in audio and mobile technologies. SCOSCHE finds inspiration in the California lifestyle, culture, music and people. These influences can be seen in the accessories and products that are now in the hands, homes, offices and vehicles of people in over 50 countries. With hundreds of patents/trademarks and countless industry awards received, it is easy to see why SCOSCHE is consistently at the forefront of technology and innovation.