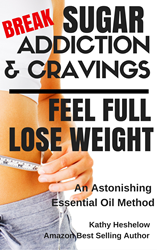 A secret about sugar and why so many are affected is a big part of this book, now released in audiobook on Amazon and Audible.
ST. PETERSBURGH, Fla. (PRWEB) January 09, 2018
Many simply do not know that sugar is addictive, and is a downfall in weight gain.
The book which examines the facts is now available in audiobook format. "I narrated the book, because many today like to listen to books and get information while they are driving, jogging or doing other things," says Kathy Heshelow, author of the book "Break Sugar Cravings or Addiction, Feel Full, Lose Weight" "I thought the timing was right."
Each new year brings an opportunity to evaluate the state of health and implement new strategies or routines for wellness.
Many Americans are diabetic or pre-diabetic, or may be overweight due to sugar. Sugar is hidden in all kinds of foods, including salty ones. This book could help understand why and how sugar affects the body and brain, and what to do. It is a book about awareness, but also gives some concrete action plans.
The best-selling book debuted in the popular in Kindle format and paperback last summer.
Heshelow, founder of Sublime Naturals and host of the podcast "Essential Oil Zen", is an author specializing in aromatherapy (and natural wellness & beauty subjects.) This short book includes an interesting and effective way to break sugar problems with essential oils in this book after laying out very important facts everyone needs to know.
The author has written a number of books on wellness, including a large book about the history of essential oils and how essential oils work, entitled "Essential Oils Have Super Powers"; a very popular book about how to use essential oils, entitled "Use This for That", and more. A new book is due out in February as wel.
Heshelow also hosts the podcast "Essential Oil Zen", with new episodes coming next month. She lived in Paris, France for 16 years where essential oils are used in the medical world and accepted for their strong powers by the scientific community.