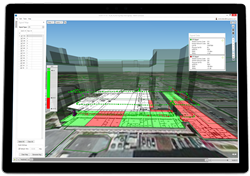 GREENBELT, Md. (PRWEB) January 10, 2018
TRX Systems, developer of NEON® Indoor Location Solutions, today released a new version of NEON Signal Mapper with Grid Reporting to enable building owners and radio engineers to more easily demonstrate compliance with National Fire Protection Agency (NFPA) and International Fire Code (IFC) requirements. NEON Signal Mapper is a RF coverage mapping solution that delivers 3D mapping, tracking, and visualization where GPS is unreliable. The NEON Signal Mapper application leverages TRX's patented NEON Location Service which uses inertial sensor fusion, user corrections, and map data to enable real-time 3D location and tracking within buildings, stadiums, subways, dense urban areas, and any region without GPS. A short video demonstrating NEON Signal Mapper with the new Grid Reporting feature can be on TRXSystemsTV.
Over the past 10 years, U.S. fire jurisdictions have adopted standards for in-building public-safety communications systems designed to ensure adequate indoor radio coverage for firefighters, police, and other first responders. Verification of reliable radio coverage is vital to saving lives and many building owners are required to test and document network performance in the grid reporting formats specified by NFPA and IFC in order to acquire a building permit for new construction or to maintain a permit after a refurbishment.
NEON Signal Mapper is already used by engineers worldwide to automatically geo-reference two-way radio, cellular and Wi-Fi signals during performance testing of public safety and commercial networks inside buildings. With these new Grid Reporting enhancements, NEON Signal Mapper also dramatically reduces the time and cost to meet most local jurisdiction occupancy requirements where grid reporting is required.
"The rollout of the new FirstNet Public Safety LTE network is creating an expectation of a reliable broadband network for first responder mission critical voice and data applications," said Jeff Kunst, Vice President of Product Development at TRX Systems. "The NEON solution is already relied upon for in-building public safety radio signal mapping and will now provide building owners and RF engineers a simple and inexpensive way to document in grid format the new FirstNet Public Safety LTE coverage as well," added Mr. Kunst.
NEON Signal Mapper is integrated with third-party test and measurement equipment for extensive two-way radio and cellular coverage and performance mapping; these integrated solutions can be purchased directly from TRX partners. NEON Signal Mapper for commercial and public safety LTE, Wi-Fi and BLE coverage mapping using standard, off-the-shelf Android devices is now available for purchase at the TRX Signal Mapper Store.
About TRX Systems
TRX Systems is the developer of the NEON® Indoor Location Solution, delivering location and mapping indoors, underground and in dense urban areas where GPS is not available or is unreliable. NEON delivers ubiquitous, low-cost, 3D indoor location through the use of advanced sensor fusion, ranging, and patented dynamic mapping algorithms. NEON patented location technology provides the foundation for a number of commercial applications including NEON Personnel Tracker, NEON Signal Mapper and NEON Squad Tracker.
TRX Systems is the recipient of the Silver Edison Award for Innovation in the Navigation and Robotics category, the Tibbetts Award given by the U.S. Small Business Administration for Innovation and Economic Impact of Research and Development, the TEDCO ICE Award for Corporate Excellence and the Innovator Award from the Chesapeake Regional Tech Counsel (CRTC). TRX's indoor location software development has been supported by the National Science Foundation, the Defense Advanced Research Projects Agency (DARPA), the U.S. Army, and the Department of Homeland Security.