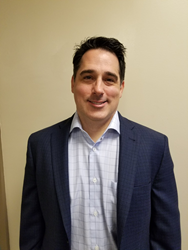 Tampa, Fla. (PRWEB) January 09, 2018
Physician Partners of America (PPOA) is pleased to announce that William Milo has joined the company as Senior Vice President of Practice Operations. He will oversee all of PPOA's clinics, including 23 interventional pain management locations in Texas and Florida.
The company recently expanded its Florida operations, and will open pain management clinics in Wellington, Orange Park and Jacksonville later this month.
Milo formerly served as Vice President of Operations and Physician Services at Surgery Partners in Tampa, and Vice President of its subsidiary, Logan Laboratories, Inc. Before that, Milo served in the Human Resources department of Cleveland Clinic Florida and as Associate Administrator of Medical Surgical Specialists, a 70 physician group practice of Health Management Associates.
He holds a bachelor's degree in Marketing from Florida State University, a master's degree in Business Administration from Hodges University, and has received his Senior Professional in Human Resource (SPHR) certification from the Society for Human Resources Management.
About Physician Partners of America
Headquartered in Tampa, Fla., Physician Partners of America (PPOA) is a fast-growing national healthcare company that manages a wide range of medical practices. These include interventional pain management, spinal procedures, orthopedics, psychology, personal injury, Workers' Compensation, and AAAHC-accredited ambulatory surgery centers and procedure suites.
Its ancillary division includes imaging, medical supply distributorship, pharmacies, a COLA-accredited high-complexity quantitative toxicology lab and a COLA-accredited pharmacogenomics lab.
PPOA was founded in 2013, on the idea of strengthening the doctor-patient relationship and improving patient outcomes by acquiring medical practices and employing partner physicians so they can focus solely on the practice of medicine. PPOA and its affiliates share a common vision of ensuring the safety and well-being of patients, and providing alternative treatments in the national struggle against opioid abuse. For more information visit http://www.physicianpartnersofamerica.com