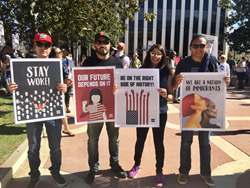 WalkWoke is an app for creating, printing and sharing protest signs that support the fight for women's equality, immigration rights, disability rights, civil rights, health care equality, environmental justice, LGBTQIA rights and more.
PALO ALTO, Calif. (PRWEB) January 09, 2018
Tangelo is a venture studio and innovation lab whose diverse team executes end-to-end digital transformations and forward-thinking business evolutions for startups and Fortune 500s. Last Tuesday, Tangelo launched WalkWoke, the first and only iOS app fully conceived and designed to inspire empathy and political activism through powerful printable and shareable art drawn by real artists of the Resistance.
Tangelo embraces diversity and makes a conscious effort to integrate it into company culture and hiring processes. Though it may seem challenging to build a team that fulfills the full diversity spectrum in Silicon Valley, Tangelo is proof that this challenge is not only surmountable, but also shows that empowering diverse employees can be a magnificent business advantage. Tangelo integrates multiple diversity factors in the hiring process including race, gender identity, age, socioeconomic background, education, health status and personality/character.
The team sought to address human rights issues directly impacting their communities in addition to their own experiences with harassment, domestic violence and inequality. Passion resulted in the development of the newly released iOS app, WalkWoke, the first app of its kind to enable activists to fight for equality using impactful artwork.
WalkWoke is about promoting love and kindness; education and reason; equity and empathy; and tolerance and respect. The art gallery contains over 50 unique and powerful protest signs across various civil rights topics enabling anyone to stand up and actively participate in rallies and marches. Each poster is centered around powerful and empathetic artwork and allows users to personalize their posters by adding their own slogans.
"WalkWoke's ethos square with our solemn duty to develop future leaders with a rock-solid ethical core. In the end, we must teach our children the imperative of righteous resistance so that they will indeed have the needed muscle memory to act when they do witness injustice," says Rebecca Altamirano, Tangelo's Founder.
WalkWoke was developed by Tangelo's diverse team of women, immigrants and minorities to magnify the voice of every human being and unite efforts to enact real change. The strong slogans and original art found in the WalkWoke iOs app take a stand against hatred, violence, ignorance and cruelty.
Make a Difference. Join the Resistance. Download WalkWoke from the App Store today.
About Tangelo: Founded in 2007, Tangelo is an Innovation Lab and Venture Studio based in Palo Alto, CA.