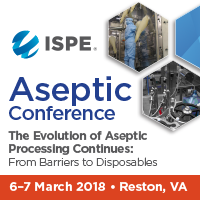 BETHESDA, Md. (PRWEB) January 09, 2018
The International Society for Pharmaceutical Engineering (ISPE) announced its full technical program and keynote speakers for their 27th Annual Aseptic Conference taking place 06–07 March in Reston, Virginia. The following keynote addresses will showcase industry leaders offering compelling and enlightening presentations in their own respected areas of aseptic processing.
Keynote Speakers:
Joyce M. Hansen
Joyce M. Hansen is currently Vice President of Sterility Assurance for Johnson & Johnson. Her presentation will focus on a call to industry to act as change agents in addressing the challenge of legacy facilities and creating a vision to upgrade them. With 38 years of experience, she is a recognized industry leader in sterility assurance and sterilization practices. Prior to joining Johnson & Johnson, Joyce was the President and Founder of the consulting firm J.M. Hansen & Associates, Inc.
Robert Sausville
Robert Sausville is Director, Division of Case Management (DCM) Office of Compliance and Biologics Quality, at FDA's Center for Biologics Evaluation and Research (CBER). Robert's session will provide a unique FDA perspective informed by thirty years of industry experience and observations in aseptic processing. Prior to joining DCM, Sausville spent eight years in CBER's Division of Manufacturing and Product Quality where his responsibilities included review of establishment and biologics license applications and supplements related to viral vaccines, monoclonal antibodies, in-vitro diagnostic kits, and plasma fractionation products.
The ISPE Aseptic Conference remains at the forefront of education in the evolution of aseptic technology, featuring content-rich sessions and an exhibit hall with the latest innovations in aseptic processing. The 2018 event will address challenges in the field, including innovation for the future, upgrading legacy facilities, and containment issues with highly potent and toxic products.
To learn more about this signature ISPE event and to register, visit http://www.ISPE.org/Conferences/2018-Aseptic.
About ISPE
The International Society for Pharmaceutical Engineering (ISPE) is the world's largest not-for-profit association serving its members through leading scientific, technical, and regulatory advancement across the entire pharmaceutical life cycle. The more than 18,000 members of ISPE are building solutions in the development and manufacture of safe, effective pharmaceutical and biologic medicines, and medical delivery devices in more than 90 countries around the world. Founded in 1980, ISPE has its worldwide headquarters in Bethesda, Maryland USA, and an operations and training center in Tampa, Florida USA. Visit http://www.ISPE.org for more information.
For more information, contact:
Maria Robertson
Senior Director, Marketing Communications
International Society for Pharmaceutical Engineering (ISPE)
Tel: +1-301-364-9207
Email: mrobertson(at)ispe(dot)org
http://www.ISPE.org