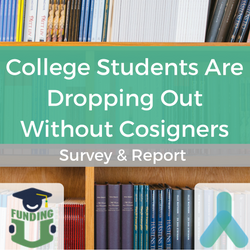 "The combination of college sticker price, limited financial aid, and post 2008 credit environment creates a perfect storm of obstacles for students on their path to attaining a valuable 4-year degree."
HOBOKEN, N.J. (PRWEB) January 09, 2018
The rising costs of college has made it increasingly difficult for students and families to afford a higher education.
In 2017, LendEDU found that the 60.63 percent of college students who apply for private student loans do so without a cosigner. And unfortunately, the vast majority, 95.10 percent, of these applicants will be denied funding.
Today, LendEDU and FundingU released the results of a new survey to 569 college students who inquired about non-cosigned student loan options at Funding University. In general, college students who are looking for non-cosigned student loans have exhausted all other financing options and do not have a creditworthy cosigner available. Funding University created a six question survey and administered the survey via email to their user base.
FundingU aims to help under-funded college students by offering non-cosigned student loans. In this survey, FundingU and LendEDU worked to gain insight into an underserved demographic of college students. "The combination of college sticker price, limited financial aid, and post 2008 credit environment creates a perfect storm of obstacles for students on their path to attaining a valuable 4-year degree." said Jeannie Tarkenton CEO and Co-Founder of FundingU.
Highlights:

54.65 percent of current college students surveyed could not find enough money to pay for college
51.04 percent of current college students surveyed had to drop out after they were unable to find funding for college
78.79 percent of current college students surveyed may need to delay graduation as a result due to financial constraints
73.76 percent of current college students surveyed reported that they will need to look for a non-cosigned student loan again next year
The results of the survey and report highlight a little talked about problem impacting the lives of incoming and current college students. "Each year about 2 million students apply to banks to attain critical 'last gap' loans to reach graduation. Those without co-signers are rejected, and poor/moderate income students are disproportionately represented in this rejected cohort." Said Tarkenton.
"At LendEDU we work to bring unique insights through data." said Nate Matherson CEO & Co-founder of LendEDU. "We were excited to work with FundingU on this collaborative report. I am excited that we can now put data behind a clear problem impacting millions of current and future college students." said Matherson.
This data-driven report was done in a partnership between LendEDU and FundingU, a private student loan lender who offers non-cosigned loan products. FundingU aims to help under-funded college students. All poll questions were designed by FundingU. FundingU also completed the polling process. In total, 569 current college students that submitted a request to FundingU for a non-cosigned student loan to continue their college education were polled. Respondents were asked to answer each question truthfully and to the best of their abilities.
About LendEDU
In 2014, LendEDU launched as marketplace for student loans and student loan refinancing. LendEDU helps graduates find the lowest student loan quotes with one application. Today, LendEDU helps consumers compare a number of personal finance products including student loans, personal loans, credit cards, and banking products. LendEDU works to create engaging resource content, industry leading news, and tools to create transparency for consumers.
LendEDU was founded by Nate Matherson and Matt Lenhard in August of 2014. LendEDU is a graduate of Y Combinator's W16 class, the Iowa Startup Accelerator, and the Horn Program at the University of Delaware.
About FundingU
FundingU provides "college completion" loans without a co-signer requirement to successful students who find themselves facing a last gap in funding needed to achieve a valuable 4-year degree. We know that smart students tap all other sources - grants, aid, and low cost federal loans - but that, at today's college costs, too many of them still can not access the money they need to get to the finish line.
FundingU was founded in 2015 by Jeannie Tarkenton and Jesse Dyer with initial seed funding from Bezos Expeditions.
For more information, please contact:
Dave Rathmanner
Email: dave.rathmanner(at)lendedu(dot)com
Phone: 302-584-0389