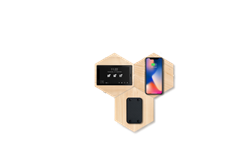 Tracking apps help you find lost items, but the MagHive prevents you from losing things in the first place.
LAS VEGAS (PRWEB) January 09, 2018
PITAKA, a leader in personal carrying systems, introduced MagHive, the world's first smart reminder system at CES 2018. The MagHive app and hardware can make critical times like keys, wallets and headphones attachable to a base station that will remind users not to leave home without their essential items.
Getting into the car without a wallet or purse, or heading off to the gym without earphones will be a thing of the past thanks to MagHive. Amazon Echo Dot and Google Home compatibility make it smarter than any device tracking solution.
"Most tracking apps help you find lost items, but the MagHive prevents you from forgetting or misplacing things in the first place," said Pitaka founder James Cheng. "It reminds you to grab what you need before leaving your house. It is compatible with Amazon Echo Dot and Google Home devices to extend the smart home to the entryway, where many people forget their most important items and devices."
The MagHive is the first smart home device that can store and organize any personal item--keys, phone, earphones, purses, and wallets--or anything else consumers rely on but frequently misplace or forget. It can even suggest the user grab an umbrella if the forecast calls for rain. Paired with Amazon Echo Dot and Google Home, users can add voice control and the personal assistant to make the MagHive even more helpful.
Complete Hardware and Software System
The MagHive system consists of a mobile app for IOS and Android smartphones, along with a magnetic, NFC/RFID-enabled, wireless-charging base station with fobs called MagTags that can make any personal item pairable. Reminders can be customized and triggered by motion and even by events like the weather. Reminders can also be sent to friends and family.
Specific modules include:
A display module that communicates with smartphones via the MagHive app
A magnetic Near Field Communication (NFC/RFID reader) module
A magnetic QI wireless charging module
MagTag NFC/RFID-enabled fobs for wallets, purses, keyrings, etc.
Any metallic items can be attached to the base station, and any QI-chargeable item can be charged at the same time. Any time an item is moved, the display module issues an alert and sends preset reminders to the phone.
Smart Home Technology
The Echo Dot was Amazon's best selling product for the 2017 holiday season as people welcome technology into the home to automate routine tasks. While Amazon and Google battle for the living room, PITAKA targets the entryway--the last checkpoint before leaving the house. Alexa can now remind you to grab your wallet.
Patented NFC Technology
The MagHive's patented NFC capabilities detect motion and communicate using NFC/RFID technology. The hexagonal design of the base station is fully modular.
The PITAKA Team
PITAKA founder James Cheng created the MagHive to blend smartphone and smart home technology and to bring the smart home to the entryway of homes, with reminder technology based on motion and conditions such as sun, rain, humidity, and more. Cheng is also the owner of the Thinplay folk music label and producer of indie music albums, as well as an indie musician in China. He believes the commercial and arts are essentials and important for daily CTO Bright Cheng was a leading engineer at Foxconn and along with CXO Teng Gen was a member of that Motorola engineering team involved in designing the Motorola RAZR X series. CXO:
Availability
The PITAKA MagHive is at the stage of creating manufacturing samples. The product will be readily available in Q1 2018, through the Kickstarter crowdfunding platform. For more information visit https://maghive.ipitaka.com.
Visit Pitaka at CES
CES 2018 attendees and media can see the MagHive in action at the Sands Hall #40274. For appointments and interviews please contact Bill Peatman of Alaniz Marketing
Email: bill(at)alanizmarketing(dot)com; Phone: +1 (707) 338-1674.