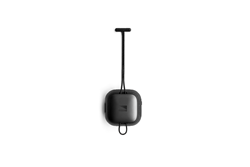 The Lander Cairn XL features a 10,000 mAh battery that produces a stunning 350-lumens for up to 400 hours of light on a single charge
LEHI, Utah (PRWEB) January 09, 2018
Lander®, the creator of expedition-inspired accessories, has rounded out its modern lantern collection with Cairn™ XL—a long-lasting, 350-lumen, iOS app-enabled outdoor accessory that reinvents the centuries-old lighting category.
Cairn XL features a 10,000 mAh battery, which produces a stunning 350-lumens for up to 400 hours of light on a single charge. Its uniquely rounded-square design is easily stowed in backpacks or jacket pockets.
"The Cairn XL is the most powerful lantern in the Lander family and the most versatile camping accessory we've ever made," said Kasey Feller, Lander's brand manager. "The XL features BlueTooth functionality that allows you to communicate directly with the lantern via a free mobile app. Now you can modify your lighting experience to meet your needs."
Available in a black-on-black color configuration, each Cairn XL features:

App-enabled BlueTooth connectivity (iOS and Android)
Light modes and control—on/off, dimming, color, light alarms, and proximity illumination
Waterproof and dustproof IP65 rating
Quick charge 10,000 mAh battery
400+ hours* of light time with variable dimming and strobe modes
Mobile device recharge up to four times
Illumifind™ reflective tether for easy nighttime locating
Anchor system for easy hanging and holding
Lander Cairn XL ($99.99) will be available this spring. To learn more about the current Lander Cairn line, click here.
*Duration dependent on light-brightness usage.
About Lander®
Lander creates expedition-inspired accessories for your journey, wherever it may take you. Inspired by its Rocky Mountain home, Lander accessories are made with innovative technology used in equipment carried by the world's best explorers. Lander offers an extensive line of cables, phone cases, backpacks and chargers—gear made modern. For more information, visit Lander.
About Parent Company BGZ brands™
BGZ brands' mission is "to enhance our customers' lifestyles through branded products and services of elevated value and quality." Formerly known as BodyGuardz®, BGZ brands has become the powerhouse parent company of three distinct consumer electronic accessory brands—BodyGuardz, a leading device protection company; Lander, gear made modern™; and MOXYO®, modern accessories for you. For more information, visit BGZ brands.
###