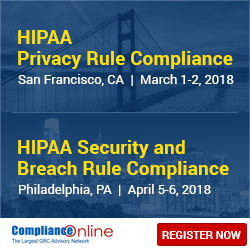 PALO ALTO, Calif. (PRWEB) January 09, 2018
ComplianceOnline announced seminars on HIPAA Compliance. These seminars led by industry expert Jim Sheldon-Dean will be held on March 1-2, 2018 in San Francisco, CA and April 5-6, 2018 in Philadelphia, PA.
HIPAA Privacy Rule Compliance-Understanding New Rules and Responsibilities of Privacy Officer
Location: March 1 and 2, 2018 - San Francisco, CA
This seminar will explain audits and enforcement, and how privacy regulations relate to security and breach regulations, as well as responding to privacy and security breaches and ways to prevent them. Numerous references and sample documents will be provided.
For more information or to register for the seminar, please click here.
HIPAA Security and Breach Rule Compliance- Understanding Risk Analysis, Policies and Procedures and Managing Incidents
Location: April 5-6, 2016 - Philadelphia, PA
This session will also explain HIPAA Security safeguards and the role of risk analysis in effectively evaluating and implementing Security Rule compliance. Audits and enforcement will be explained, as well as security breaches and how to prevent them. Numerous references and sample documents will be provided.
For more information or to register for the seminar, please click here.
Seminar Instructor Jim Sheldon-Dean serves on the HIMSS Information Systems Security Workgroup, has co-chaired the Workgroup for Electronic Data Interchange Privacy and Security Workgroup, and is a recipient of the WEDI 2011 Award of Merit. He is a frequent speaker regarding HIPAA and information privacy and security compliance issues at seminars and conferences, including speaking engagements at numerous regional and national healthcare association conferences and conventions and the annual NIST/OCR HIPAA Security Conference in Washington, D.C.
This course will be beneficial for all personnel in medical offices, practice groups, hospitals, academic medical centers, insurers, business associates (shredding, data storage, systems vendors, billing services, etc.).
Avail early bird discounts.
Register by phone: Please call our customer service specialists at +1-888-717-2436 or email to customercare(at)complianceonline.com
For more information on ComplianceOnline or to browse through our trainings, please visit our website.
About ComplianceOnline
ComplianceOnline is a leading provider of regulatory compliance trainings for companies and professionals in regulated industries. ComplianceOnline has successfully trained over 55,000 professionals from 15,000 companies to comply with the requirements of regulatory agencies. ComplianceOnline is headquartered in Palo Alto, California and can be reached at http://www.complianceonline.com. ComplianceOnline is a MetricStream portal. MetricStream (http://www.metricstream.com) is a market leader in Enterprise-wide Governance, Risk, Compliance (GRC) and Quality Management Solutions for global corporations.
For more information please contact:
A Reuben Bernard
Associate Director - ComplianceOnline
2600 E Bayshore Rd
Palo Alto CA USA 94303
Phone - +1-650-238-9656 | +1-888-717-2436
Fax - 650-362-2367
Mail: reuben(at)complianceonline.com
Website: http://www.complianceonline.com