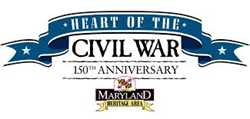 FREDERICK, Md. (PRWEB) January 11, 2018
The Heart of the Civil War Heritage Area (HCWHA), a certified heritage area encompassing parts of Carroll, Frederick and Washington counties, announces $11,445 in mini-grant awards to six local nonprofit organizations:

Battle of Falling Waters 1863 Foundation: $2,500 for development of the site plan for the Falling Waters 1863 Battlefield parking and interpretive site.
Heritage Frederick: $2,500 for an exhibit, workshops, a catalog and searchable index related to the Mason Dixon Line
Main Street Middletown: $2,500 to convert the Heritage Tours brochure into a GIS-generated Story Map
Thomas Kennedy Center: $1,500 for a website
Sykesville Main Street Association: $1,600 for a Sykesville introductory magazine including historical landmarks and a walking map
Historic Rocky Springs Chapel: $845 for a Civil War Trails (CWT)
Interpretive Sign
The grants range between $500 and $2,500 and are intended to develop new and innovative programs, partnerships, exhibits, tours, events, and other heritage tourism-related initiatives that are consistent with the goals and priorities stated in the HCWHA management plan (available at heartofthecivilwar.org). Grant-funded projects must take place within the geographic boundaries of the heritage area. The total investment in these projects is $39,801.48.