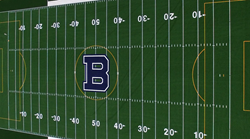 Not only can we use this field in all types of weather, but the playability is fantastic for football, soccer and lacrosse
TACOMA, Wash. (PRWEB) January 11, 2018
Football season has come and gone at Bellarmine Prep in Tacoma, but the football field still looks brand new. Memorial Field is no longer a muddy mess this time of year thanks to its state-of-the-art stadium turf from AstroTurf®. The artificial grass was installed this summer by Coast to Coast Turf, a certified AstroTurf installer headquartered in Spokane - and boy did it hold up well.
That's because Memorial Field received one of the most technologically advanced football turf fields in the country - AstroTurf's 3D360 Blend turf system featuring Bionic Fiber™. The Bionic Fiber is a super-fiber that reinforces player-friendly polyethylene fibers with ultra-durable nylon polymers in a feat of chemical engineering never achieved before in the turf industry. The "3D3" designation means the field also has AstroTurf's patented RootZone, a sub-layer of crimped fibers that stabilizes the infill and increases shock absorbency. The turf has a 60-ounce face weight, meaning it has very dense stitching. All of these factors combine to make a synthetic turf that is stronger, safer, better, and more resilient.
"Our coaches and athletes are thrilled with our new Bionic field from AstroTurf," said Athletic Director Ed Ploof. "Not only can we use the field in all types of weather, but the playability is fantastic for football, soccer and lacrosse. The comments from opposing coaches have been very complimentary. One opposing school construction team has already visited and would like to contract with AstroTurf for their renovation."
Memorial Field received a significant makeover that included widening the field, replacing the old wooden bleachers with new spectator seating, and installing the innovative AstroTurf field. There did exist sentimental value in having one of the last grass stadiums in the region, but it always wore thin when the rains came. Bellarmine Prep regularly had to request use of other venues to play soccer and lacrosse games when Memorial was unavailable due to muddy conditions - but not anymore.
Bellarmine Prep joins a handful of pioneering institutions around North America that installed a Bionic Fiber field from AstroTurf in 2017. These beta sites include locations in Maine, Pennsylvania, Georgia, Texas, Colorado and Quebec Province in Canada. AstroTurf is confident that its patent-pending Bionic Fiber technology will soon become the benchmark for excellence in the industry.
About AstroTurf®
For athletes and sport enthusiasts, AstroTurf® has redefined the way the game is played. The brand offers advanced, state-of-the-art, multi-sport and specialized synthetic turf systems with proprietary engineered technologies. A growing number of high schools, colleges, professional sports teams and municipalities continue to select AstroTurf-branded products for their premium quality, technical superiority, and safety. To learn more, visit AstroTurf's newly redesigned website at http://www.astroturf.com.