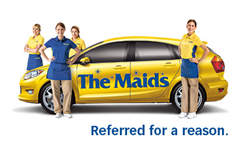 Cut down on the spread of germs in your home and help keep your family happy and healthy, with these eight tips from experts at The Maids.
Omaha, NE (PRWEB) January 10, 2018
Peak flu season is upon us, and according to the Centers for Disease Control and Prevention (CDC), this flu season is more severe than most. Cut down on the spread of germs in your home and help keep your family happy and healthy, with these eight tips from experts at The Maids.

Get a flu shot. According to the CDC, this is still the strongest defense against the virus and it's not too late in the flu season to benefit.
There is no substitute for good hygiene. Wash your hands regularly with warm soapy water and scrub for at least 20 seconds. Have young children? Have them sing the ABCs while they scrub for a fun way to pass the time. Carry hand sanitizer with you for those times you can't wash with soap and water.
Don't give germs an open invitation. Avoid touching your eyes, nose, and mouth. The flu virus and other germs enter your body through these places when you touch something contaminated, and then touch your face.
Germs can lurk in surprising places. Be sure to properly disinfect commonly touched surfaces in your home such as phones, doorknobs, tables, faucets, remotes and light switches. Germs can live on these surfaces for up to 48 hours.
Wash items such as towels and bedding regularly with hot water to kill germs. If someone in the home is sick, be sure to wash these items before they are shared.
Prevent the spread of germs. It's always a good idea to avoid close contact with sick people, which means if you or family member is sick, stay home from work or school.
Practice good health habits. Getting plenty of sleep, being physically active and drinking plenty of fluids can help support your immune system this flu season and all year round.
When illness strikes, it's time for a deep cleaning. If someone in your home has been ill but you just don't have the energy or time to give your home the disinfecting it deserves, call in a cleaning service like The Maids.
Let the cleaning professionals from The Maids help your family fight the flu this season and schedule a deep cleaning for your home. Visit http://www.maids.com to request a free estimate and find your local office.
Like our cleaning tips? Follow our blog for cleaning tips, tricks and tools delivered right to your inbox, http://www.maids.com/blog/subscribe.
About The Maids:
Known for its 22-Step Healthy Touch® Deep Cleaning System, The Maids is the only franchised residential cleaning service to clean for health, combining environmentally preferable cleaning supplies and state-of-the-art equipment with a methodical process to maintain the healthiest living environment possible for families. The Maids enjoys a 96 percent customer referral rate, distinguishing them as the residential cleaning service of choice. Visit The Maids (http://www.maids.com) for more information or call 1-800-The Maids.