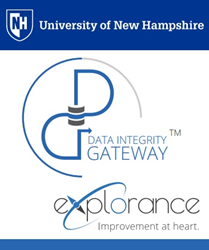 The addition of DIG was the biggest win for those who do the evaluation process.
MONTREAL (PRWEB) January 10, 2018
The University of New Hampshire (UNH), a flagship research university receiving more than $100 million in competitive external funding every year, recently implemented eXplorance's Data Integrity Gateway (DIG) tool to harness the power of big data analytics and enhance data quality. The university had been looking for ways to organize their Student Information System (SIS) data in order to make more informed decisions through accurate course evaluation analytics.
Universities and colleges have long realized that with the increasing student enrollment data and course-related information, data integrity becomes a significant responsibility for administration. Low data quality can be costly, when SIS data is inaccurate, incomplete, or out-of-date. The struggle to make sound decisions with analytics that are reliable makes it difficult, if not impossible, for institutions like UNH, if the data quality at the base of their decisions is not sufficient.
In order to address this challenge, UNH implemented eXplorance's Data Integrity Gateway (DIG), a solution designed to simplify data cleanup. By centralizing control of the process of data preparation, DIG enables institutions to run several cleanup projects from within a single tool. Processes are optimized with task management functionality, automated workflows, email notifications and a follow-up engine. This management tool ensures that data is assigned to and updated by the appropriate person. Institutions can easily and efficiently prepare data, delegate work, monitor progress and get the data quality they are looking for.
Using eXplorance's DIG, UNH was able to improve their data quality and therefore get more accurate course evaluation analytics. "When we learned about the DIG module, it was clear it was built to address one of our process challenges," said PT Vasudevan, Senior Vice Provost for Academic Affairs at the University of New Hampshire. "We believed it would aid in reducing the resource demand on the central office by removing them as a middle agent from the data review process." The decision was made after considering homegrown solutions and opting instead for a proprietary solution with proven results and faster delivery time.
"Our implementation of DIG was very successful and the product was well received by the departmental evaluation coordinators," Vasudevan added. Teaching evaluations are mandatory for all departments at UNH. As part of the evaluation preparation procedure, 60 coordinators representing each department are assigned to review the course data.
"The addition of DIG was the biggest win for those who do the evaluation process. Although the amount of data review has not changed in terms of what coordinators need to review and edit, the feedback on DIG has been that it is easier to use, coordinators complete their reviews in less time and feel more confident in the data quality. We have been able to dramatically decrease the total cycle time for the evaluation preparation process," Vasudevan concluded.
To learn more about eXplorance's DIG and how it may assist your organization to reach better decision-making with improved and accurate SIS data, download the Data Integrity Gateway (DIG) brochure or schedule a private demo session.
About UNH
The University of New Hampshire is a flagship research university that inspires innovation and transforms lives in our state, nation and world. More than 16,000 students from all 50 states and 71 countries engage with an award-winning faculty in top-ranked programs in business, engineering, law, liberal arts and the sciences across more than 200 programs of study. UNH's research portfolio includes partnerships with NASA, NOAA, NSF and NIH, receiving more than $100 million in competitive external funding every year to further explore and define the frontiers of land, sea and space.
About eXplorance
eXplorance is the leading provider of Learning Experience Management (LEM) solutions for education, corporate, and consulting markets. By providing tools that assess needs, expectations, skills, knowledge and competencies, eXplorance assists organizations in developing a culture of improvement.
Founded in 2003, eXplorance is a privately held corporation based in Montreal, Canada. Some of eXplorance's clients include Universidad de los Andes, University of Louisville, RMIT University, University of Toronto, University of Groningen, UAE University, Babson College, The American Petroleum Institute, Fidelity Marketing, IoanDepot and NASA.