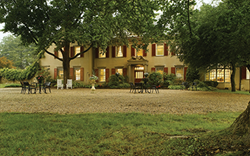 My daughter's transformation is absolutely amazing. I am so grateful. ~a Glenholme parent
WASHINGTON, Conn. (PRWEB) January 11, 2018
The Glenholme School, a special needs boarding and day school, announced enrollment for its 2017-2018 school year remains open for students, ages 10 to 21, who struggle with social, emotional, and learning differences.
Founded 50 years ago, Glenholme is fully accredited by NEASC and delivers a comprehensive curriculum with college preparatory and career development courses for students of all ability levels.
Students are also offered a variety of extracurricular and instructional activities designed to complement their academic and social development. The arts, athletics, culinary, equestrian, and technology are emphasized.
The school's culture pairs a living philosophy based on well-established core values with a positive school climate to create a safe and nurturing setting that allows learning to thrive.
Under Glenholme's rolling admissions policy, students can apply and enroll at any time during the year.
Current openings are in grades 5 through 8. High school openings may be available as well.
Interested families can inquire with Glenholme Admissions at (860) 868-7377.
About The Glenholme School:
Devereux Advanced Behavioral Health— The Glenholme School is an independent, coeducational, special needs boarding school for young people with high functioning autism spectrum disorders, ADHD, OCD, Tourette, depression, anxiety, and various learning differences. The program provides a treatment milieu designed to build competence socially and academically. Devereux Advanced Behavioral Health is a leading nonprofit behavioral health organization that supports many of the most underserved and vulnerable members of our communities. For more information about The Glenholme School and its program, visit http://www.theglenholmeschool.org/.