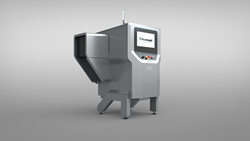 SACRAMENTO, Calif. (PRWEB) January 09, 2018
Peco InspX is pleased to announce its presence at the 2018 California League of Food Processors in Booth 512. This year's Peco InspX's presence at the CLFP show will focus on the Company's continued expansion of its SHIELD lineup of X-Ray inspection systems. The SHIELD family now includes a full line-of machines:

SHIELD Trio: Triple Beam Glass Inspection System
SHIELD Crescendo: Dual Beam Inspection System for Large Rigid Containers
SHIELD Solo: Single Beam Rigid Container Inspection
SHIELD Allegro: 510mm wide Top-down Inspection System
SHIELD Allegro-Wide: 800 mm wide Top-down Inspection System
SHIELD Bulk Allegro: 510 mm Wide Bulk Inspection System
SHIELD Bulk Allegro Wide: 800 mm Wide Bulk Inspection System
SHIELD Fermata: Pipeline Inspection System
"We've put over 3 years of research and development into the SHIELD platform and the results have been outstanding as we have created a unique product offering that exhibits:
Best in Class Product Imaging – which drives super contaminant detection
Superior Inspection Software – which minimizes false rejects
Extreme Reliability – Built in redundancy on key components
Advanced Remote Diagnostics – which makes our machines easy to service
Made in the USA – designed in Silicon Valley, assembled in Modesto, CA
Best In Class Cost of Ownership
And so we invite the attendees of this year's CLFP show to stop by our booth and see firsthand why Peco InspX is rapidly becoming the preferred supplier of X-Ray inspection systems in California and across the globe," remarked Peco InspX CEO Rich Cisek.
About Peco InspX
Peco InspX Corporation is a leading provider of advanced technology inspection solutions for the food and beverage industries. With headquarters in Silicon Valley (San Carlos), CA, the company serves customers around the world and inspects over 120 million food and beverage containers daily. The company specializes in accurate high speed package inspection in machines that are easy to use with a low cost of ownership.