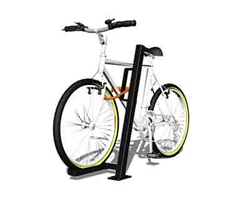 We created the MK1 to reward riders with an infrastructure that says go ahead and RIDE.
BOCA RATON, Fla. (PRWEB) January 10, 2018
As part of the next generation in bicycle parking, Chris Luyet of The Park and Facilities Catalog, announced the introduction of the new MK1 Bike Dock, a high-security, bicycle-friendly commercial bike rack.
The MK1 was created to meet the growing demand from bike commuters who now ride on college and business campuses. As part of the launch, the company released an animated video showing the many features and benefits of this uniquely-designed bike rack.
"While the number of cyclists continues to climb, organized space has become limited. We need to offer bicycle commuters a bicycle-friendly and organized environment that attracts riders," said Chris Luyet, Vice President and General Manager of The Park and Facilities Catalog. "The MK1 is the perfect solution for this challenge. It enables planners to create a controlled footprint, securing a bike in its 24" x 72" footprint, and limiting bike-to bike-conflict with other bikes."
The major advantage of the MK1 is the well-defined and controlled footprint, compared to other bike racks. Without a bicycle, the metal outdoor bike rack measures just 10.5" wide, by 18" long. With an average-sized bicycle, the length is about 72."
Bicycles are secured to the MK1 Bike Dock with three points of contact. There is a steel locking arm that forces riders to secure their tire and frame to the rack with a U-lock, which is a critical factor in bicycle parking as not all riders understand the importance to lock in this manner. This provides the best scenario for security and is highly recommended by the Association of Pedestrian and Bicycle Professionals.
Another feature that plays into the MK1's space-saving abilities is the use of a wheel "trough" at the base of the post. The front wheel or back wheel of the bicycle is inserted into this rectangular metal trough to keep the bicycle upright and prevent the bike from tipping or slipping.
With the innovative locking arm and wheel trough, bikes are indexed better to provide more orderly, high-density bicycle parking and maximize the use of space.
"If you go to many areas where there is heavy bicycle use, like on college campuses, oftentimes you will see bicycles tipped to the side or falling on top of other bikes," said Luyet. "This makes for a sloppy bicycle parking environment and experience, which can damage bicycles, create a hazard that pedestrians must walk around, and turn off bike riders."
To avoid scratching or scuffing, the metal MK1 Bike Dock is covered with a thick, proprietary finish called SealGuard. This thermoplastic-like coating is highly durable and rugged. The coating is UV- and mold-resistant and will not fade, corrode or rust after exposure to the elements. It comes with a 7-year warranty, well above the 1-year standard within the industry.
SealGuard is manufactured with an eco-friendly manufacturing process that does not release harmful chemicals into the environment and the MK1 is made entirely in the United States.
Another advantage of the MK1 for architects and transportation planners is its flexibility. Because each rack is indexed separately, the bike docks can be angled, staggered, and arranged in modular configurations to accommodate curved or limited spaces. This modularity will allow higher-density parking per square foot in any environment's dimensions.
"Everybody today wants to encourage more people to commute by bicycle than drive. It's better for traffic, the environment and public health," Luyet explained. "But if we are going to promote bicycling in cities and on campuses, we need to provide more secure bicycle parking spaces in convenient locations. We created the MK1 for that purpose, to reward riders with an infrastructure that says go ahead and RIDE."
Luyet said the MK1 was designed with architects and planners in mind. Any bicycle or transportation planner involved in a large-scale project may qualify to receive samples of the MK1 to review.
For more information about the MK1 please contact sales(at)theparkcatalog(dot)com or call 1-800-695-3503. To read more details visit the company's website at http://www.theparkcatalog.com/mk1-bike-dock.
To watch the product video, visit: https://youtu.be/d3aMF6LfKjc
About The Park and Facilities Catalog:
Since 2001, The Park and Facilities Catalog has supplied top quality indoor and outdoor bike racks to parks, schools, universities, restaurants, stores, malls, shopping centers, multi-family communities across the United States. The company is also a distributor of additional site furnishings such as park benches, picnic tables, trash receptacles, aluminum bleachers and hundreds of other items. Call 1-800-695-3503 or click here for more information on commercial bike racks - https://www.theparkcatalog.com/bike-racks.
Contact:
Chris Luyet, Vice President and General Manager
The Park and Facilities Catalog
1-800-695-3503 ext. 500
Chris(at)theparkcatalog(dot)com
https://www.theparkcatalog.com/