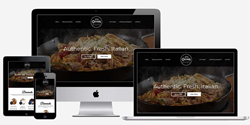 "Our client's success is our success. We won't rest until you see results." - Ken Seneff
SOUTHFIELD, Mich. (PRWEB) January 11, 2018
Restaurant Logic, a Michigan-based marketing software company, is changing the way that independent restaurants market themselves online. They do this by offering each of their clients a single portal for managing their website, social media, email marketing and online reputation. In short, they help independent restaurants across the nation market themselves the same way that big, nation-wide chains do. And the company has a laser focus on helping even more restaurants succeed in 2018.
The core idea behind Restaurant Logic is that online marketing efforts should be custom tailored to a company's industry. Therefore, the company strives to make sure that their entire team understands the nuances of how restaurants succeed online. By doing so, they ensure that their clients receive the exact kind of help they need. This kind of niche marketing is likely to become the new normal in the future because internet marketers that understand your industry are far more likely to know how to help your online presence work for you and your business.
Restaurant Logic has built an all-in-one software system that provides a simple interface which allows each of their clients to change their online menu in real time, manage a customer database, track customer spending, manage their social presence, create & send email marketing messages, receive real customer feedback, and more. In essence, their one-of-a-kind dashboard allows restaurants to maintain a high-quality online presence and engage in effective online marketing strategies without needing to learn multiple platforms.
When Ken Seneff founded Restaurant Logic in 2012, he knew that independent restaurant owners don't have the time to learn and use a wide range of online marketing tools and platforms. So, instead of offering another single-goal marketing tool, he chose to create a custom platform that was focused on helping restaurants improve their profits by driving higher guest counts and check averages. The resultant Restaurant Logic platform is specifically designed to help remove the drudgery and confusion from internet marketing so that restaurant owners can focus on their food, their establishment, and their customers.
Since Restaurant Logic was founded, they have helped hundreds of restaurants across the country create and maintain an effective online presence. In order to do this, they start with the creation of a beautiful, customized website that highlights the restaurant — including an option for multiple locations — in a way that is professional and useful. Also, the websites they create are designed with the modern internet in mind. That means they are designed to be viewed on mobile devices, easy to update, and help drive activity. These sites can even have online ordering and reservation systems integrated directly so that your local restaurant experience can feel just like a big brand (or better!)
Additionally, each restaurant's new website includes a custom web marketing dashboard that allows them to run many aspects of their online presence from a single online location. This simple dashboard provides the company with an unparalleled level of control when it comes to their online presence and online marketing efforts, and it's all geared around the exact type of marketing that helps restaurants succeed in today's high competition reality.