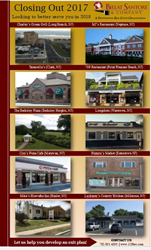 Allenhurst, NJ (PRWEB) January 09, 2018
The New Year provides an opportunity for a fresh start for many people personally and professionally. But it is also a time for reflection on the success and the blessings that the previous year has gifted. In a new report , Bielat Santore & Company looks back on some of their noteworthy work in 2017, while looking forward to a bigger and better 2018.
Major sales include: Charley's Oceanfront Grill, Long Branch, NJ; MJ's Restaurant, Neptune, NJ; Tarantella's, Clark, NJ; 709 Restaurant, Point Pleasant Beach, NJ; The Berkeley Plaza, Berkeley Heights, NJ; Longshots, Waretown, NJ; Ciro's Pizza Cafe, Matawan, NJ; Pizzuto's Market, Eatontown, NJ; Mike's Hiawatha Inn, Hazlet, NJ; Luchento's Country Kitchen, Millstone, NJ.
To read further, visit https://bielatsantoreandcompany.wordpress.com/. For a complete list of Bielat Santore & Company's sold properties, go to the firm's website at http://www.123bsc.com.
About Bielat Santore & Company
Bielat Santore & Company is an established commercial real estate firm. The company's expertise lies chiefly within the restaurant and hospitality industry, specializing in the sale of restaurants and other food and beverage real estate businesses. Since 1978, the principals of Bielat Santore & Company, Barry Bielat and Richard Santore, have sold more restaurants and similar type properties in New Jersey than any other real estate company. Furthermore, the firm has secured in excess of $500,000,000 in financing to facilitate these transactions. Visit the company's website, http://www.123bsc.com for the latest in new listings, property searches, available land, market data, financing trends, RSS feeds, press releases and more.