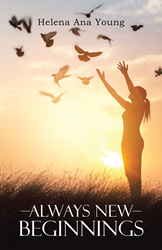 ANDOVER, Minn. (PRWEB) January 15, 2018
A Minnesota-based chemical dependency coach has published a book about her uplifting journey to embracing her spirituality and discovering God within herself and others. In "Always New Beginnings," author Helena Ana Young twines intimate anecdotes of her own life struggles and challenges with her more than four decades of experience working with those recovering from chemical dependency.
Through nine short, easy-to-read chapters, Young presents readers with a series of her own "beginnings" – each of which provides a relatable and raw forum for spiritual reflection, healing and growth. In this, Young hopes to reach out to those who are lost or hurting so that they may find peace and encouragement.
"Teaching is my forte, especially demonstrating to others that we are not who we have been, but rather who we choose to be in the present," Young said. "I am 78 years old and still working to reach those in pain – it's the reason for my writing of this book. It's my calling."
Told from the perspective of a woman who has spent much of her life helping others to reclaim their own, "Always New Beginnings" delivers a gentle examination of the depths of the human spirit and offers a path to discovering and fortifying one's identity.
"Always New Beginnings"
By Helena Ana Young
ISBN: 978-1-5043-7656-3 (hardback); 978-1-5043-7655-6 (paperback); 978-1-5043-7663-1 (electronic)
Available at the Balboa Press Online Bookstore, Barnes & Noble and Amazon
About the author
Helena Ana Young was born in the late 1930s in rural Minnesota. During her more than four decades of work in chemical dependency, Young has founded five addiction treatment centers, a church and an emergency housing shelter. She has taught spirituality for more than 50 years, has served as an ordained minister for 40 years and at one time trained to become a professional singer.
###
Review Copies & Interview Requests:
LAVIDGE – Phoenix
Danielle Grobmeier
480-648-7557
dgrobmeier@lavidge.com
General Inquiries:
LAVIDGE – Phoenix
Maggie Driver
480-998-2600 x 584
mdriver@lavidge.com