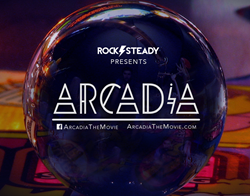 "We're so grateful for the opportunity to capture this landmark event on film. We can't wait to tell Jon's amazing story."
PHILADELPHIA (PRWEB) January 10, 2018
ARCADIA is a feature-length documentary and nostalgia-driven opus chronicling the storied history and profound cultural impact of amusement arcades in America. At its heart, ARCADIA is a love story, an exhilarating tale of culture meeting technology, as told by an array of colorful historians, curators, collectors, industry legends, celebrity fans, and hard-core arcade fanatics.
Filming begins in Southern California at the Torrence estate and moves to world-renowned Morphy Auctions in Las Vegas on January 27, 2018, where the famed Jon Torrence Private Collection of antique arcade machines will be sold at auction. This never-before-seen collection features some of the rarest coin-op games and amusements ever produced. Bidding is expected to be fierce, with prominent collectors from around the world converging on Sin City for this once-in-a-lifetime sale.
"We're so grateful for the opportunity to capture this landmark event on film. We're just as excited to document Jon Torrence's personal story. He's a dynamite entrepreneur who made his fortune in various business ventures including the coin-op business. We can't wait to tell his story on film," says ARCADIA director Zach Weddington.
Jon Torrence is a legend in the antiques industry with an encyclopedic knowledge of antique coin-op amusements and vintage gambling machines. By putting his collection into new hands, he hopes to inspire others to embrace their passions and share their own gifts with the world.
"I'm thrilled to be a part of the ARCADIA film and sharing my story. It's also an everlasting opportunity to document my collection in this moment of time to enjoy forever. This collection is one of the great loves of my life and there is no better way to pay it forward than to share it with the world," says Torrence.
ARCADIA comes on the heels of Rock Steady's acclaimed documentary Viva Amiga: The Story of a Beautiful Machine, released in 2017 through FilmBuff and featured on Hulu.
"Arcadia will be an immersive, enlightening, and visually-captivating exploration of the arcade phenomenon over the past 100 years. We're talking historic locations, compelling interviews, dazzling visual effects, and a soundtrack that will blow you back in time." says Weddington. More details about the film can be found at ArcadiaTheMovie.com.
Rock Steady Media is an award-winning motion picture production company based in Philadelphia PA. Their all-star team of creative professionals uses its three decades of experience to bring compelling stories to life on screens big and small.