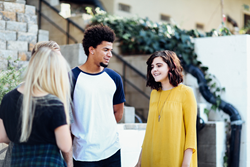 The Millennial generation is a proponent of authenticity. Think about your company's mission statement, then one or two causes your brand can stand behind that are in line with your already established values.
VENTURA, Calif. (PRWEB) January 10, 2018
The New Year is the ideal time to rethink one's marketing strategy, and no strategy is effective without taking Millennials into consideration. Millennials, people born between 1982 and 2000, are the largest generation America has ever seen, and simply cannot be ignored when it comes to marketing. There are over 83 million Millennials in the United States, most of whom are extremely tech-savvy, having been raised like no other generation before them with the Internet, cell phones, etc.
"Keep in mind that this generation is expected to make up as much as 75% of the workforce by 2025," said Tiffani Tendell, Press Director of the NALA. "Furthermore, numerous Millennials are already in charge of buying decisions at their places of employment."
In order to help small businesses market to Millennials, Tendell and Jordan Jennings, the NALA's Brand Manager, share the following five tips:
No. 1: Avoid traditional selling tactics. Millennials tend to distrust big corporations and brand names that are driven solely by profit. Instead, they choose to spend their dollars and invest brand loyalty into smaller, local businesses that have strong core values.
"Because of Millennials' overwhelming aversion to corporate greed, blatant advertising will most likely be lost on them," noted Jennings. "This is where content marketing comes in. In order to earn and keep the trust of Millennial consumers, your brand will need to offer informational, entertaining, and valuable content in the form of blog posts, webinars, podcasts, live streaming videos, social media posts and life hacks related to your industry."
No. 2: Ensure your business' online content is mobile friendly. Millennials use their smartphones more than any other generation. In fact, this age group prefers to use a mobile device over a desktop or laptop.
"With solutions and information just a touch screen away, it will be key for your brand to be available through this technology," added Tendell. "All the content your business generates on the Web should load easily on a mobile device, and mobile users should be at the forefront of your target audience."
No. 3: Maintain content and engagement on social media. Social media is marketing's modern terrain and will become an indispensable tool for any business to reach its audience. "Instagram and Snapchat are the preferred social media outlets among Millennials, and should be included in your social media strategy when producing, distributing, and promoting brand content," advised Jennings.
No. 4: Wear your values on your sleeve. Seventy percent of Millennials will spend more money on a brand that avidly supports a cause they are passionate about. "With this in mind, your small business shouldn't just pick and choose random causes and charities to support," stressed Tendell. "Above all else, the Millennial generation is a proponent of authenticity. Think about your company's mission statement, then one or two causes your brand can stand behind that are in line with your already established values."
No. 5: Exhibit social proof. "Millennials are far more likely to trust friends, family members, credible third parties, and even strangers over what any business or brand claims," concluded Jennings. "As a result, you will want to highlight your brand's results and interactions with consumers and even other businesses. This is best done through customer reviews, case studies, user-submitted content, and guest bloggers/vloggers."
About the NALA™
The NALA offers small and medium-sized businesses effective ways to reach customers through new media. As a single-agency source, the NALA helps businesses flourish in their local community. The NALA's mission is to promote a business' relevant and newsworthy events and achievements, both online and through traditional media. For information about the NALA's services, visit https://getpresscoverage.thenala.com/how-press-works/. For media inquiries, please call 805.650.6121, ext. 361.