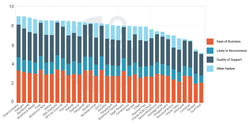 CHICAGO (PRWEB) January 09, 2018
G2 Crowd, the world's leading business software review platform, today released the Winter 2018 HR Management Suites Relationship Index report to help businesses quickly identify the HR management suites with the highest relationship score. ClearCompany received the highest overall relationship score with an 8.97 out of 10. The average score for the 34 products included in the report was a 7.86.
A product's relationship score is calculated by a proprietary algorithm that factors in real-user satisfaction ratings for a number of relationship-related review questions. The relationship score is affected by the following (in order of importance):

Customers' reported ease of doing business with the vendor based on reviews by G2 Crowd users
Customers' satisfaction with the product's quality of support based on reviews by G2 Crowd users
Customers' likelihood to recommend each product based on reviews by G2 Crowd users
The number of reviews received on G2 Crowd; buyers trust a product with more reviews, and a greater number of reviews indicates a more representative and accurate reflection of the customer experience.
About the HR Management Suites Relationship Index report:
The report is based on more than 3,973 reviews written by business professionals.
Of the 82 products listed in G2 Crowd's business content management category, the ranked products each received a minimum of 10 reviews and five responses for each of the relationship-related questions in G2 Crowd's review form.
About G2 Crowd, Inc.
G2 Crowd, the world's leading business solution review platform, leverages more than 315,000 user reviews to drive better purchasing decisions. Business professionals, buyers, investors, and analysts use the site to compare and select the best software and services based on peer reviews and synthesized social data. Every month, more than one million people visit G2 Crowd's site to gain unique insights. Co-founded by the founder and former executives of SaaS leaders like BigMachines (acquired by Oracle) and SteelBrick (acquired by Salesforce) and backed by more than $45 million in capital, G2 Crowd aims to bring authenticity and transparency to the business marketplace. For more information, go to G2Crowd.com.