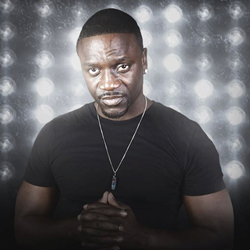 Meet Akon at the Up In The Lab CES booth (LVCC, South Hall Upper Level #31816) on Wednesday, January 10, 2018
Los Angeles, CA & Las Vegas, NV (PRWEB) January 10, 2018
WowFixIt has announced today that Grammy-nominated, multi-platinum selling artist, producer, entrepreneur, and philanthropist Akon will be making a personal appearance at the Up In The Lab booth (LVCC, South Hall Upper Level Booth #31816) mid-day on Wednesday, January 10th to launch his involvement as WowFixIt's global brand ambassador and to help introduce WowFixIt's three new products launching at CES 2018; including the Wow-X™, That's Wow Antibacterial Wipes™ and Wow Solar™.
Through its distribution partnership with Up In The Lab, Inc., WowFixIt, will be releasing three new products to its line in 2018 – Wow-X, That's Wow Antibacterial Wipes and Wow Solar.
WowFixIt is ranked as the world's #1 liquid screen and surface protection solution. The invisible liquid screen protector is based on Nanotechnology making the screen of any electronic device ultra scratch resistant, antibacterial and serves as a shield reducing harmful cell phone radiation exposure.
The new Wow-X will come with two Nano wipes to protect both sides of the phone as the latest smartphones are being made with glass on both sides of the device. The all natural, specially formulated chemical-free solution for the latest generation of dual-glass / screen devices is not only scratch and shatter resistant, but it is specially designed to do the following:
1. Protect against germs and bacteria
2. Amplify the colors and brightness of the screen
3. Improve camera lens for better pictures and videos
4. 'Bubble-free' formula
5. 'Invisible' touch-screen protection
6. Water-repellent hydrophobic effect
7. Works flawlessly with touch-screens
8. Tested to reduce radiation exposure
9. '9H' hardness on the Mohs scale
That's Wow Antibacterial Wipes come conveniently packaged in a pack of six and uses a special recipe to provide antibacterial protection for any glass screen device. The nanoparticles in the That's Wow Antibacterial Wipes are 'ionized' by the WowFixIt protective layer which, under the influence of sunlight, produces active oxygen which, in turn, breaks down most fats and kills harmful bacteria for up to two months.
"WowFixIt is currently sold in more than 65 countries and has sold millions of units in 2017," said Ronny Mirel, co-founder of Up In The Lab. "We are excited to partner with WowFixIt to increase the distribution and expand our respective product lines to make this easy to use Nanotechnology available to everyone."
WowFixIt is also planning to preview the new Wow Solar line which will include oversized wipes to easily clean and create a protective layer against dust and dirt for residential and commercial solar panels. When dust and dirt builds up on solar panels they become significantly less effective in capturing solar energy. Wow Solar will not only clean the panels, but the newly developed Nanotechnology layer it applies will provide a level of protection for up to one year to deter nature's elements from scratching or adhering to the panel and diminishing performance.
"We're excited to be working with Akon as our global brand ambassador," said Gabriel Kikoza, founder of WowFixIt. "He not only believes in the benefits of our product line but we can help aide his Akon Lighting Africa™ program by enhancing the life span and effectiveness of solar panels being installed throughout Africa and around the world with our new Wow Solar line."
About WowFixIt
Invented in Hungary, WowFixIt is ranked as the world's #1 Liquid Screen & Surface Protection Solution with distribution in over 60 countries around the world. Our Invisible Titanium Liquid Screen Protector is based on Nanotechnology making the screen of electronics ultra-scratch resistant, antibacterial and protects against harmful cell phone radiation. WowFixIt is now available around the world through its network of distributors. For more information, visit http://www.wowfixitusa.com
About Up In The Lab
Up In The Lab is an innovative technology company that is always 'cooking up' new and innovative technologies and products. The Lab's first brand introduced last year was Juiced2Go™. The company is gearing up to introduce the world to its Dual Magic Flash™ (iOS Lightning® & Micro USB dual tip with USB to easily transfer files between devices), its distribution partnership with WowFixIt, as well as, the X-Brain™ All-In-One Smart Home Media Router through a strategic partnership with Xunison.
For press inquiries, or to schedule an interview and/or demo at CES, please contact: tracey(at)productivitypr(dot)com
###