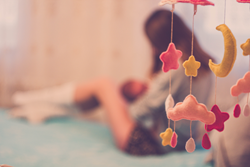 MPF™ lenses with melanin represent an optimization by PPT wherein the melanin was modified to maximize the filtration of the portion of the blue light that caused the greatest suppression of melatonin while still preserving color perception when compared to other lenses
SAN ANTONIO (PRWEB) January 11, 2018
Texas-based Photoprotective Technologies (PPT) Incorporated, a world leader in blue light filtration technology, leverages their Melatonin Production Factor (MPF™) lenses to promote a common underlying factor associated with positive prenatal, neonatal, and postpartum health. Using melanin as a natural way to filter harmful light, MPF™ lenses have been shown to disrupt the suppression of the vital hormone Melatonin. Commonly referred to as the sleep hormone, Melatonin has an important role in all stages of reproduction, from fertility to post-partum recovery. By offering lenses in frames designed specifically for women, PPT hopes to promote usage of blue light blocking glasses that offer a significant gain in overall wellness.
Decades of research has long established that melatonin does more than just help us fall asleep at night (1). Melatonin is thought to play a critical role in reproductive health and numerous studies have proven it plays an essential role as an important regulator of the complex embryo-fetal developmental processes (2). Melatonin readily crosses the placenta and the fetal blood-brain barrier, and during a normal pregnancy, acts as an antioxidant and is essential for a successful pregnancy and post-partum health (2). Primarily, melatonin induces the circadian rhythmicity in the developing fetus that carries through to after the birth and appears to have a direct developmental effect on nervous and endocrine system (2). There is solid evidence that melatonin is neuroprotective and has a positive effect on the outcome of high risk pregnancies (2). Compromised pregnancies result in oxidative stress to the fetus and alter fetal development, but melatonin can protect organs in development from damage due oxidative stress. Most amazingly, in small neonatal clinical studies, melatonin improved outcomes in sepsis, prematurity and perinatal asphyxia (3) After giving birth, as any parent can tell you, sleep is disrupted which in turn disrupts the circadian rhythm. Researchers are currently conducting studies to correlate the levels of melatonin to rates of postpartum depression to single out one of the many factors that contribute to the disorder commonly experienced by so many women.
Using MPF™ lenses to preserve the production of Melatonin caused by evening exposure to certain wavelengths of light, PPT offers a non-invasive option to promote wellness during and after pregnancy that does not involve taking melatonin supplements which fall outside of FDA regulation. High energy visible light, commonly referred to as blue light, is the main culprit behind the suppression of night time production of melatonin. Blue light, which is particularly beneficial during the daytime, is more disruptive at night, and induces the strongest melatonin inhibition. Nocturnal blue light exposure is increasing due to the growing dependence on cellphones, tablets, LED screens and energy-efficient lightbulbs. PPT has set the bar for lenses that preserve the production of Melatonin when it developed the patent-pending Melatonin Production Factor™ (MPF™) rating for lenses that should become an industry standard for rating blue light blocking glasses. PPT distinguishes itself from other manufactures of blue light blocking lenses by using melanin as the basis for its light filtration technology. Found in the eyes, hair and skin, melanin is the body's natural defense against harmful light. "MPF™ lenses with melanin represent an optimization by PPT wherein the melanin was modified to maximize the filtration of the portion of the blue light that caused the greatest suppression of melatonin while still preserving color perception when compared to other lenses," according to physicist Dr. James Gallas, CEO of PPT and inventor of melanin lenses.
Adding to its very popular offerings of unisex frames with MPF™ lenses, http://www.mpf6.com will now offer women an option to purchase frames that are specifically designed to offer maximum comfort and complement the feminine facial structure. PPT also feels strongly about protecting children's vision from blue light damage and lends its technology and support to Melakids, TrueBlue, BLUTECH, and, ESP Eyewear .
Sources:
(1) Physiology (Bethesda). 2014 Sep;29(5):325-33. doi: 10.1152/physiol.00011.2014. Melatonin: exceeding expectations. Reiter RJ1, Tan DX2, Galano A3.
(2) J Med Life. 2014 Oct-Dec; 7(4): 488–492. Role of melatonin in embryo fetal development SE Voiculescu,* N Zygouropoulos,* CD Zahiu,* and AM Zagrean.
(3) J Pineal Res. 2009 Mar;46(2):128-39. doi: 10.1111/j.1600-079X.2008.00649.x. Epub 2008 Nov 19. Oxidative stress of the newborn in the pre- and postnatal period and the clinical utility of melatonin. Gitto E1, Pellegrino S, Gitto P, Barberi I, Reiter RJ.