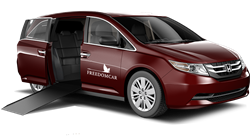 At FreedomCar, we're proud to provide greater mobility options for Baltimore travelers with our first wheelchair-accessible van, a life-enhancing service for our clients who need wheelchair-accessible transportation.
Baltimore, MD (PRWEB) January 10, 2018
Since 1991 there has been no other transportation solution like FreedomCar, and now we're announcing a new private wheelchair transportation service – FreedomCar Mobility. FreedomCar's recent acquisition of a state-of-the-art wheelchair-accessible Honda Odyssey minivan provides ample space for 4 passengers including 1 wheelchair. The wheelchair access vans' generous headroom (more than any other Honda mobility van) and automatic in-floor ramp for easy entry delivers the premium experience that is customary in all FreedomCar vehicles.
A recent U.S. Census showed nearly 57 million people in the U.S. (19% of the U.S. population) with disabilities, yet there are less than 3,000 companies providing special needs transportation. Designed to meet the needs of FreedomCar customers who face physical mobility challenges, the FreedomCar Mobility program aims to provide non-emergency wheelchair transportation with easy vehicle entry for every passenger.
"We believe that all people, regardless of the conditions that govern their mobility, deserve an accessible transportation service that is invested in the safety, comfort and well-being of its passengers. At FreedomCar, we're proud to make that a reality with our first wheelchair-accessible van, a life-enhancing service for our clients who need wheelchair-accessible transportation," said the company's co-founder, Mark Thistel.
Accessible tourism is on the rise in the U.S. since more businesses are offering ADA (Americans with Disabilities Act) approved accommodations for disabled travelers. One of the easiest ways to travel with a disability is by using a mobility device such as a walker, wheelchair or scooter. However, these types of mobility devices require additional room and even safety equipment to properly be secured while in transit. Wheelchair transportation companies providing handicapped accessible vehicles like wheelchair vans are convenient, safe and easy to use for passengers who wish to travel. With the addition of its first wheelchair-accessible van, FreedomCar has opened the door for wheelchair-dependent travelers, whether traveling around Maryland or headed to a local airport, train station or cruise terminal port to travel farther from home.
FreedomCar's fleet of new sedans, vans and SUVs are all operated by safe, courteous, knowledgeable drivers. To heighten FreedomCar's focus on providing transportation services for disabled and the elderly, whether or not they are in a wheelchair, FreedomCar employees provide door-to-door service and are instructed on ways to handle many different passenger challenges with the utmost dignity and security, including wheelchair transportation safety standards while transporting clients in wheelchairs and mobility scooters.
ABOUT FREEDOMCAR
Better than a taxi and smarter than a limo, FreedomCar has been Baltimore's trusted transportation service for safe, reliable rides and professional drivers since 1991. FreedomCar is based in Baltimore, Maryland, but offers chauffeured passenger transportation services for individuals, groups, businesses and nonprofits, anywhere you wish to go, local or out of state, 24/7/365. When time, safety, and trust are your priorities, FreedomCar is Baltimore's reliable choice in chauffeured transportation. For additional information, contact Mark Thistel at (410) 321-5600.