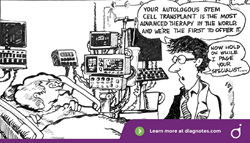 INDIANAPOLIS (PRWEB) January 10, 2018
While scientists and researchers are making significant discoveries in treating and curing a variety of diseases, many outdated modes of healthcare communication are still in use. In a post-EHR world, accessing, sharing and acting on patient data is easier than ever, with the right tools.
Diagnotes advances clinical communication far beyond expectations. These advancements are inspired by scientific discoveries that are saving and extending lives.
Visit http://www.diagnotes.com to learn more. Credited use of the illustration accompanying this release is permitted.