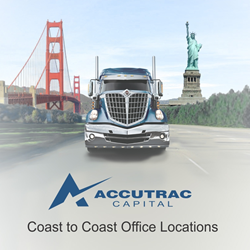 With a focus on quickly solving the funding requirements of trucking companies, Accutrac Capital has experienced tremendous growth.
PARAMUS, N.J. (PRWEB) January 11, 2018
Accutrac Capital, a specialized freight bill factoring company is proud to announce the acquisition of the assets of Sienna Transportation Finance. This acquisition is strategically significant to Accutrac with the opening of the company's first east coast regional sales and back office. Located in Paramus, New Jersey, the office establishes a physical presence on the nation's eastern seaboard to better serve the factoring company's expanding customer base. Six members of Sienna's back office will join Accutrac Capital's industry experienced team. By absorbing existing staff to manage the newly acquired client accounts, Accutrac will provide a seamless transition to the former Sienna customers.
Specializing in transportation factoring, Accutrac Capital has developed a range of products designed specifically for the trucking industry including factoring, discount fuel cards and equipment financing. Governed by a mandate to provide fast funding and easy qualification at the industry's lowest rates, Accutrac has establish a strong presence as an industry leader. "The organization is built around a team of transportation experts," says Charles Sheppard, President of Accutrac Capital. "Our executive staff have over 50 years of combined hands on experience managing and operating trucking companies. It is a company directive to ensure our customer service representatives and back office team are fully trained with working knowledge of the industry. This knowledge based company culture has proven vital to the rapid growth Accutrac Capital has experienced in providing specialized trucking factoring to the transportation sector."
The opening of the New Jersey office marks a new era in the company's history. "Our customer list includes trucking companies of all sizes from most states," continued Mr. Sheppard, "We have trucking companies and freight brokers spread across the country and into Canada, but our regional offices have been limited to the western and northern territories. With our new location in New Jersey, we now have a closer relationship with our eastern customers."
This new office is expected to grow its customer base quickly as Accutrac Capital takes root along the Eastern Seaboard. Although important to have a presence in each of the factoring company's active territories, a physical office location is not a necessity. "We operate largely online," explains Mr. Sheppard. "Utilizing the latest technologies, our organization is built to handle large transaction volumes easily and rapidly to fund truck operations throughout North America. No matter where a truck picks up or delivers its load, through current technology an invoice can be issued and funded the same day. Immediate access to working capital is essential to keep trucks moving and to generate more revenue."
Accutrac Capital offers Flat Fee Factoring from just 1.59% for 90 days ALL-IN! This popular cash flow solution is an industry favorite among owners of trucking companies. The simple to manage funding process and easy to calculate fee structure creates a convenient, no hassle means of accessing operating capital. To further strengthen the financial status of its customers, Accutrac Capital provides Fuel Discount Cards, a robust cost saving program with credit terms available.
The opening of the New Jersey office represents yet another milestone for Accutrac Capital with the widening footprint of this specialized transportation factoring company now reaching from coast to coast.
For more information about Freight Factoring and Fuel Discount Cards for trucking companies, visit Accutrac Capital at: http://www.AccutracCapital.com