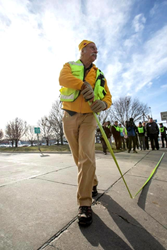 Dan Burden's work has helped define and shape the future of vibrant communities as walkable communities now start to gain market share over auto-dependent suburbs.
MINNEAPOLIS (PRWEB) January 10, 2018
Dan Burden, Blue Zones Director of Inspiration and Innovation, was named one of the "100 Most Influential Urbanists" of all time by Planetizen, an independent academic resource. Planetizen readers selected people who've had the, "most influence on the places and environments we call home," from a mix of thinkers, planners, activists, and designers, whose contributions date back as far as 498 BCE.
 
Burden ranks 58th on the list and is described as a, "leader in innovative transportation planning." He is America's most recognized authority on walkability and bikeability and is a pioneer in people-first urban planning. For 40 years, he has helped policymakers in over 3,500 cities around the country create healthier cities, one neighborhood at a time. His work bridges the gap between research and action by using evidence-based policy making to achieve real results.
Health officials are now, more than ever, looking to Burden's innovations in achieving better public health outcomes at manageable costs. His work has helped define and shape the future of vibrant communities as walkable communities now start to gain market share over auto-dependent suburbs.
 
"It's a great honor to be recognized among city-making peers throughout history who have focused on building for people and places first," Burden said. "For 100 years, our many American institutions unraveled cities, making healthy choices difficult. Our greatest city makers are now setting a new compass bearing, giving people traction once again. I am delighted to be among them."
 
Burden leads the Built Environment team at Blue Zones and for the Blue Zones Project. His work focuses on making healthy choices easier through permanent and semi-permanent changes to the environment. These changes include optimizing public policy, building and street design, and the built environment. Burden's work transforming communities impacts both current and future generations: In Albert Lea, MN, for example, his leadership helped revitalize the failing downtown area, which resulted in a 25% increase in property values, millions of revenue from the mixed-use downtown development, a 68% increase in downtown pedestrian traffic, and a 38% increase in overall biking and walking.
About Blue Zones®
Blue Zones employs evidence-based ways to help people live longer, better. The company's work is rooted in explorations and research done in Blue Zones regions around the world, where people live extraordinarily long or happy lives. The original research and findings were released in the bestselling books The Blue Zones Solution, The Blue Zones of Happiness, The Blue Zones, and Thrive—all published by National Geographic books. Using original Blue Zones research, Blue Zones Project® works with cities to make healthy choices easier through permanent changes to a city's environment, policy, and social networks. Participating communities have experienced double digit drops in obesity and tobacco use and have saved millions of dollars in healthcare costs. Currently, 42 communities in nine states have joined Blue Zones Project, impacting more than 3.3 million Americans nationwide. Blue Zones Project is an exclusive partnership between Blue Zones and Sharecare. For more information, visit bluezones.com.