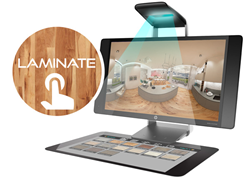 I thought this kind of recognition was reserved for larger firms like Apple, Oculus or Magic Leap
(PRWEB) January 11, 2018
Virtual Pictures Corp (VPiX®), the first Virtual Reality company to deliver a suite of AR, VR and MR content-creation servers, announced today they were chosen to receive the prestigious Entrepreneur 360 Award for 2017. VPiX is ranked 238 out of 360 on the Entrepreneur magazine's list of "Best Entrepreneurial Companies in America."
"I'm completely blown away," says Bart Wilson, founder and CIO of VPiX. "I thought this kind of recognition was reserved for larger firms like Apple, Oculus or Magic Leap. We're just a small team doing what we love. I'm humbled to accept this award on behalf of the entire VPiX team; Sridhar, John, Anthony, Tanya, Jon, Arwin, Nathan and Rachelle. We have an incredible VR dream team that runs like a well-oiled machine."
A little over 1.3 million VPiX virtual tours are created and hosted on Rackspace and Akamai by VPiX rock star photographers like Jason Sievert of Invision Studio and Knut Gasvik of Chili Group -- a VPiX affiliate office and one of the country's leading advertising agencies based in Harstad, Norway.
In January 2010, VPiX launched the world's first 360°/SaaS and hosting platform the next after day Steve Jobs introduced the 1st generation iPad.
Seven years later, VPiX offers dedicated and customized 360° servers with a managed service level that power millions of end-user virtual experiences for Balfour Beatty, Budweiser, Century 21, Choice Hotels, Carnival Cruise Lines, ExecuJet, Honda, Homeland Security, Keller Williams, RideTime, Rolls Royce, Trump Realty, UC Riverside and the US Army.
"Just this month, we announced our first 3D flooring visualizer kiosk with HP. We call it Floors 3D," says James Corstorphine, a VPiX affiliate that owns and operates VIRTX360.com in Atlanta. James added, "We were an exhibitor at the 2018 Southeast Flooring Market show this week, and we blew the socks off hundreds of retail flooring store owners. It's an impressive 3D visualization tool that will help the 'mom & pop flooring stores,' to sell a ton more flooring products every single month."
TakeStock inventory is a Dallas-based company that hired VPiX in 2016 to help them build out a unique 360° digital asset management platform. TakeStock provides on-site professional photography services to homeowners and businesses for inventory purposes, including 24/7 on-line digital inventory tools, in markets across the USA. Once the photography is done and content is moved to the users' online account, customers are given a secure (SSL) login with intuitive AR tools to help them inventory and tag all their possessions as visual proof of ownership for insurance claims, divorce proceedings, estate planning and other purposes.
What's next for VPiX? " Licensing, and teaching other entrepreneurs how to open and run a successful VR service-based business of their own," adds Bart.
"Our 18-plus years in the 360 space has given us a ton of expertise and now we're teaching others how to have fun and make money in this exploding market. "