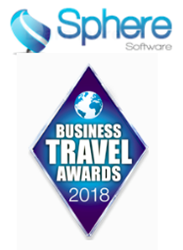 The core of what Sphere's team does well is their dedication to their work. They don't just finish a task and then go about their day. Everyone from their Project Manager to their QA Manager is committed to creating fully-functional products that perform exceedingly well. ( Anton Macius at Gett UK )
CHICAGO (PRWEB) January 10, 2018
Gett's One Transport, the leading web ordering and management platform providing ground transportation solutions for global corporations, has been nominated for the 23rd Annual Business Travel Awards' "Best Ground Transportation Company" of 2018. OneTransport was built and optimized with the help of Chicago-based software company Sphere Software -- and the platform provides access to 1,500 cities across 35 countries, and up to 200,000 executive cars.
"This is extremely exciting for our client, Gett," said Sphere Software CEO Leon Ginsburg. "One Transport is a phenomenal platform for businesses looking to streamline their ground transportation. This nomination is a testament to the hard work that both of our teams put into One Transport."
Gett, the global leader in business ground travel, turned to Sphere Software early this year to help build One Transport from the ground-up. "Gett wanted to expand upon their current B2B services," said Sphere Project Manager Artem Korenev. "One Transport was the solution our joint-teams came up with; a B2B platform where companies are able to benefit from Gett's supply of hundreds of different vehicles, from black taxis to executive cars."
One Transport features a front-office dashboard that is accessible to companies once they sign up for the platform. This insightful dashboard allows companies to: view statistics showing a company's booking trends, create employee profiles and destination points, manage account roles, choose from six different vehicle options, create travel policy rules for individual users, and much more.
Additionally, One Transport is only offered to Gett's highest-rated black taxi and private hire drivers. This ensures the best-quality drivers for their B2B customers, as drivers cannot cancel their ride once a pick-up is confirmed.
"After familiarizing themselves with the product, it only took the Sphere Software team a week to start suggesting new features that are valuable to not only the UK market, but the global market as well," said Anton Macius, Head of Product and Development at Gett UK. "Sphere's ability to understand what the product is about, and being able execute, impressed me."
Testing the code quality of One Transport was also an important part of Sphere Software's development process. "Our team implemented rigorous automated testing phases, front-end testing with Code Climate, back-end testing with CircleCI, and resolved bugs within 24 hours or less," added Korenev.
"The core of what Sphere's team does well is their dedication to their work," said Macius. "They don't just finish a task and then go about their day. Everyone from their Project Manager to their Quality Assurance Manager is committed to creating fully-functional products that perform exceedingly well."
Matteo De Renzi, Managing Director of Gett UK, also commented: "Gett not only offers a quality black cab service for fast and efficient journeys, we connect companies to a whole range of corporate travel fleets across the UK and around the world. Working with Sphere has allowed to provide the very best service to our client and we're very pleased to be nominated for Annual Business Travel Awards."
Winners of the 23rd Annual Business Travel Awards will be announced on January 22, 2018. This event will take place at the JW Marriott Grosvenor House Hotel, Park Lane, in London, UK. To view the shortlist for each travel award, visit Business Travel Awards' website.
About Sphere Software
With headquarters in Chicago and regional offices in New York, Miami, Buenos Aires, Russia, Ukraine, and Belarus, Sphere Software is a global company with a local focus and a national presence.
Sphere Software has over a decade of proven success creating innovative web and mobile software solutions, big data analytics and providing staff augmentation for both start-ups and the Fortune 100. Our consulting services includes DevOps and the Atlassian product suite. Sphere's technical expertise includes Go, Python, React.js, Node.js, Ruby on Rails, Scala and Clojure, and a broad range of industry experience as well.
To find out how Sphere Software can help your business reach peak performance, connect with us on Twitter @SphereSW, LinkedIn, or Facebook, or contact us on our website at http://www.sphereinc.com.