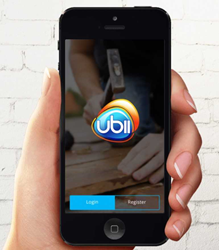 BOCA RATON, Fla. (PRWEB) January 09, 2018
Stay tuned!… A revolutionary new way to connect consumers to the service industry is about to hit the market. Ubii.com connects consumers, on-demand, with any and all service providers.
Just like Uber or Lyft gets you a car within minutes and Angie's List or Home Advisor matches you with service professionals, Ubii not only combines the two concepts but greatly improves upon it. At no cost to the consumer, Ubii lets you connect to a service provider of your choice after you review available service providers in your desired area. Instead of answering endless questions to obtain quotes in the next 24-48 hours from unknown service professionals, users can review a professional's ratings, licenses, pricing, work hours, pictures and even videos of their work before selecting one that is nearby and ready to work.
It's business as usual for service professionals: they maintain their pricing, their business identity, the way they conduct their business and simply get connected directly to consumers who need their services immediately or at a scheduled time. Professionals are able to build a strong profile page so that they can sell their services and get selected for jobs. We save them the hassle of paying to bid on multiple jobs and never hear back from the consumer. With Ubii they are pre-selected by consumers and put directly in touch. The quality of registered service professionals is maintained through background checks, internal verifications, profile platform completeness and user rating systems.
Ubii anticipates covering more than 1000 categories in the next few months and has started building up the network of professionals and customers. Our goal of establishing a robust product experience is complemented by our business model that is unique in the space. There is huge potential in this massive market with worldwide application. Ubii not only will facilitate connections between consumers and service professionals but it will create an incredible number of jobs worldwide, providing more opportunities for new business, encouraging people to find full or part time employment and allowing families better financial stability.
For more information, please write to info(at)ubii.com or check us out at http://www.ubii.com