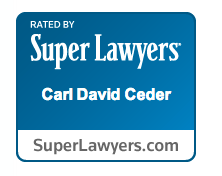 "I consider it an absolute PRIVILEGE to represent individuals in court." - Carl D. Ceder, Attorney at Law
Plano, Texas (PRWEB) January 10, 2018
The Rising Star list is the result of an exhaustive, multi-phase selection process that mirrors the patented methodology used to assemble the Super Lawyers list. Attorneys designated as Rising Stars are up-and-coming attorneys who are 40 years of age or younger and have practiced law for 10 years or less. No more than 2.5% of the lawyers in the state are selected by the research team to receive this honor.
According to the Super Lawyers rating service, Carl D. Ceder received this honor again for distinguishing himself in the practice of criminal defense and exhibiting excellence in the practice of law
About Super Lawyers
Super Lawyers, a Thomson Reuters business, is a rating service of outstanding lawyers from more than 70 practice areas who have attained a high degree of peer recognition and professional achievement. The annual selections are made using a patented multiphase process that includes a statewide survey of lawyers, an independent research evaluation of candidates and peer reviews by practice area. The result is a credible, comprehensive and diverse listing of exceptional attorneys. The Super Lawyers lists are published nationwide in Super Lawyers Magazines and in leading city and regional magazines and newspapers across the country. Super Lawyers Magazines also feature editorial profiles of attorneys who embody excellence in the practice of law. For more information about Super Lawyers, visit SuperLawyers.com
Carl D. Ceder, a 5th generation Texas, has been practicing exclusively criminal defense almost 10 years (next May will be in his 10th anniversary practicing law). He is proud of the fact that he has only worked as a criminal defense attorney, and has never worked to put someone in jail. Carl has worked on trying to be the most successful criminal defense attorney,and trial advocate, as possible literally since day 1. It's where his focus has always been for the entire length of his legal practice, and it's where it will always remain. When Texas Attorney Criminal Defense Attorney Carl D. Ceder first started practicing law, he hit the ground running and has not looked back since. He tried his first jury trial case within weeks of being a licensed attorney by the State Bar of Texas. Since then, he has conducted jury trials in 12 counties in the State of Texas, including a wide variety of charges, and in both misdemeanor and felony cases. The field of criminal defense is his passion, and when interviewed remarked that the bottom line was "he considers it an absolute PRIVILEGE to represent individuals in court." Carl D. Ceder has been practicing law since 2008 and has been recognized for inclusion on the Texas Super Lawyers Rising Stars list for five years: 2004, 2015, 2016, 2017, and now 2018.
Carl D. Ceder is Board Certified in Criminal Law by the Texas Board of Legal Specialization, which is a designation he takes much pride in having attained. He is also achieved the designation of being a "Forensic-Lawyer" Scientist by the American Chemical Society-Chemistry and the Law Division after completing rigorous forensic science coursework at Axion Laboratories in Chicago, IL. To accomplish this, he was required to undergo very highly, technical, and specialized training in Forensic Chromatography, Forensic Drug Analysis, and Forensic Principles of DUI Drugs. The ACS-CHAL Forensic Lawyer-Scientist designation is the highest form of scientific recognition available for lawyers.