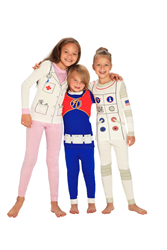 "My dad made me a pair of police officer pajamas that I wore every night. I felt like I could be or do anything in those PJs. Twenty years later, I set out to recreate that same experience I had for a new generation of children."
NEW YORK (PRWEB) January 11, 2018
Fearless Dreamer (https://fearlessdreamer.co) is changing bedtime (and mindsets) with a pajama and book bundle that empowers imagination.
The gender-neutral pajama brand invites young dreamers to step into the world of astronauts, doctors and superheroes via supple organic cotton and encouraging children's books. Designed to allow dreams to take flight, children learn that they can achieve whatever they imagine—regardless of gender.
Maurice Rahmey, Founder of Fearless Dreamer, relives the magic he enjoyed as a child. "My dad made me a pair of police officer pajamas that I wore every night. I felt like I could be or do anything in those PJs. Twenty years later, I set out to recreate that same experience I had for a new generation of children."
Each bundle includes a set of organic cotton pajamas and a matching bedtime story that will capture the hearts of parents and children alike. Super smooth seaming for extra softness and pre-shrunk fabric that will come out of the dryer bright and smooth with every wash. Once they are all dressed up, children will love following the exciting adventures of siblings, Freddy and Franny Dreamer, as they save the day, find the cure and go to Mars. Children will feel like they are a part of the story in their matching outfits. And after they get tucked into bed and the lights go out, they can dream up their own adventures.
What do you want to be when you grow up?
About Fearless Dreamer:
Founded by Maurice Rahmey, Fearless Dreamer is a pajama brand with a mission to empower children. Every pair of pajamas comes with a companion, an illustrated bedtime story about Freddy and Franny Dreamer, a brother and sister with a magic bed they to use to travel to Mars, save the day, and help patients.
Organic cotton pajamas, offered in astronaut, superhero or doctor nurture kids' sensitive skin with super soft purity. They're grown without chemical pesticides or fertilizers, and have no genetically modified organisms. For more information, visit https://fearlessdreamer.co or follow the brand on https://www.facebook.com/fearlessdreamerco or https://www.instagram.com/fearlessdreamerco