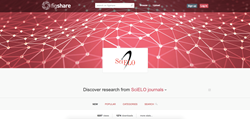 "Figshare will add a new dimension on the dissemination of the research communicated by SciELO journals by making tables, figures and supplementary material available as separated indexed contents." - Abel Packer, Director of the SciELO Program
LONDON and SÃO PAULO (PRWEB) January 16, 2018
Scientific Electronic Library Online (SciELO) today announced a new partnership with Figshare, a cloud-based repository for academic research.
SciELO's portal - available at https://scielo.figshare.com/ - is an aggregated place for researchers to access SciELO's latest research outputs, from Brazilian climate maps to data assessing the risk zones of Chagas disease in Chile. The portal covers SciELO journals from Brazil. Each journal has its own branded page to display its data.
As part of this partnership, all the data within the portal will be securely hosted and assigned a Digital Object Identifier (DOI). Over 1,000 different file types will be previewed in the browser, making it easier for people to engage with the data.
In addition, statistics including views, downloads, citations, and Altmetric information are available down to the item level. Administrators will also have a full statistics dashboard, customisable to their reporting needs.
Abel Packer, Director of the SciELO Program, said:
"Figshare will add a new dimension on the dissemination of the research communicated by SciELO journals by making tables, figures and supplementary material available as separated indexed contents."
Mark Hahnel, CEO and Founder of Figshare, said:
"We're pleased to be able to partner with SciELO in order to highlight and showcase the data that deserves to be at the forefront. We hope this makes it even easier for authors and other researchers to discover and reuse the supplementary data."
This new portal is live now. Please get in touch if you are interested in learning more about Figshare for publishers: https://publishers.figshare.com.
--
SciELO - Scientific Electronic Library Online – is a Program of the São Paulo Research Foundation (FAPESP) for the cooperative publishing of open access journals on the Internet. Especially conceived to meet the scientific communication needs of developing countries, it provides an efficient way to assure universal visibility and accessibility to their scientific literature published by nationally edited journals. In addition, the SciELO model comprises quality control and integrated procedures for the measurement of usage and impact of scientific journals.
SciELO was launched in 1998 by FAPESP with the technical cooperation of the Latin America and Caribbean Center on Health Sciences Information (BIREME/PAHO/WHO). Since 2002, the Project is also supported by the Brazilian National Council for Scientific and Technological Development (CNPq). Since its launching, the SciELO publishing model was progressively adopted by national research institutions of Ibero-American countries and South Africa comprising the SciELO Network. For more information, go to http://www.scielo.org.
Figshare is a web-based platform to help academic institutions manage, disseminate and measure the public attention of all their research outputs. The light-touch and user-friendly approach focuses on four key areas: research data management, reporting and statistics, research data dissemination and administrative control. Figshare works with institutions in North America and internationally to help them meet key funder recommendations and to provide world-leading tools to support an open culture of data sharing and collaboration. For more information, visit http://figshare.com and follow @figshare on Twitter. Figshare is a Digital Science portfolio company: https://www.digital-science.com/.
Digital Science is a technology company serving the needs of scientific and research communities, at the laboratory bench or in a research setting. It invests in and incubates scientific software companies that simplify the research cycle, making more time for discovery. Its portfolio companies and investments include a host of leading and admired brands including Altmetric, BioRAFT, Figshare, GRID, IFI CLAIMS, Labguru, Peerwith, Overleaf, ReadCube, Symplectic, TetraScience, Transcriptic, and ÜberResearch. It is operated by global media company, the Holtzbrinck Publishing Group. Visit http://www.digital-science.com and follow @digitalsci on Twitter.