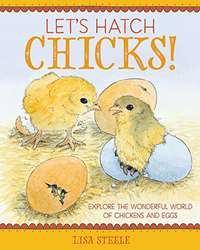 BANGOR, Maine (PRWEB) January 11, 2018
It's finally hatched! The anxiously awaited children's book "Lets Hatch Chicks!" is now available for purchase. The children's story is just the latest book by chicken keeping expert and author Lisa Steele.
"Let's Hatch Chicks" expands Steele's backyard chicken keeping franchise. Her television show, website http://www.fresheggsdaily.com, blog, and books give backyard chicken keeping newbies everything they need to know to keep a healthy, happy flock. She offers timely, sage advice on everything from how to choose the right breed to natural egg dyes for Easter.
In "Let's Hatch Chicks", children learn the joys and responsibilities of raising chicks as they follow Violet's journey from dutifully sitting on her eggs to introducing them to the rest of the flock.
Signed copies are available on Etsy with regular copies available now on Amazon.
Steele's other books include:

Fresh Eggs Daily - This authoritative, accessible guide tells you everything you need to know to join the latest movement in urban chicken raising for eggs and companionship. You'll learn the basics of coops, nesting boxes, runs, feed, and natural health care with time-tested remedies.
Duck Eggs Daily - An entertaining, indispensable how-to-book on raising ducks. Steele also provides advice for blending ducks into an existing chicken flock and cooking with duck eggs.
Gardening with Chickens – Steele helps you plan and grow your own garden with healthy, pesticide-free herbs, fruits, and veggies to share with your family and your feathered friends. In this easy-to-read guide, Steele walks you through the basics of chickens and composting, shows you how to make coop window boxes and lets you know what plants to avoid with chickens.
More about Lisa Steele and Fresh Eggs Daily:
Lisa Steele isn't a newcomer to raising chickens. She's a proud 5th generation chicken keeper! Growing up across the street from her grandparents' farm, she was raised seeing them care for their own chickens, using the meat and eggs in the family's diner. Steele left her farming roots for a while, going to college, working on Wall Street, moving with her Navy husband. Eventually, she ended up back on a small farm where she reignited her own passion for raising her chickens and ducks and helped others do the same. She quickly became recognized as an eggs-cellent source of information and inspiration for the resurging chicken keeping movement.
For more about Lisa go to http://www.fresheggsdaily.com.