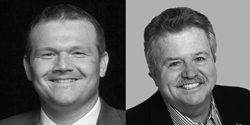 "These appointments validate the continuation of T3 Sixty's drive to be the most sought-after and progressive management consulting company in the residential real estate industry."
SAN JUAN CAPISTRANO, Calif. (PRWEB) January 11, 2018
T3 Sixty, the management consulting company led by Stefan Swanepoel, has added two executives to its team.
Travis Saxton joined in December as SVP of T3 Sixty's technology consulting division. He focuses on technology architecture, software strategies and overall technology implementation. With over 10 years of experience in real estate technology, he has authored dozens of research studies, spoken at nearly 100 industry events and has aided several hundred brokerages with their technology and marketing strategies.
Rick Hoffman joined T3 Sixty in January as SVP and Designated Broker and works with Michele Conn on mergers & acquisitions. He has served as president and COO of Coldwell Banker Residential Brokerage (NRT-owned offices) in San Diego. Before that he was president of Coldwell Banker Associates Realty – which was, at the time, the third-largest Coldwell Banker franchise in the U.S – and co-founder and CEO of ERA the Property Store. Hoffman has served as president of the San Diego Association of Realtors and member of the Board of Directors of the California Association of Realtors where he served as chairman of their for-profit subsidiary, Real Estate Business Services (REBS).
In addition, T3 Sixty made two other major hires in 2017: Kevin McQueen, who specializes in MLS consolidations, and Michele Conn, who focuses on research and large company acquisitions.
"These appointments validate the continuation of T3 Sixty's drive to be the most sought-after and progressive management consulting company in the residential real estate industry," said Swanepoel. "We are excited for our team to lead our technology, M&A, MLS and strategy divisions into the future."